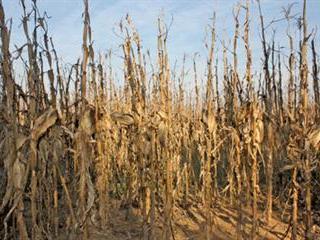 The pressure to feed a growing world population has triggered an increasing need for crops that can survive without rain for long periods. Research on drought tolerant maize has produced positive results and such a cultivar may be on the market as early as 2016.
Prof Jill Farrant, research chair of molecular physiology of plant desiccation-tolerance at the University of Cape Town, was recently honoured by the UN's Educational, Scientific and Cultural Organisation(Unesco) for her research in the field, receiving the 2012 L'Oreal-Unesco Award in Life Sciences. Prof Farrant is currently studying ways in which to make maize, fruit trees and pasture grass drought tolerant.
She explains that all plants have genes for desiccation-tolerance, but most use them only when they produce seed. "Resurrection plants (those that can lose 95% of their moisture and then return to life when watered) can also switch these genes on in their leaves and roots whenever drought occurs," she says.
According to Prof Farrant, the trick is to establish how to activate and duplicate these genes so that a plant can survive for several months without water. "The traditional biotech approach would be to transfer the genes into crops, but we've discovered that we may be able to activate existing desiccation-tolerant seed genes in crops if we can work out what the activation signals are," she says.
"Without these genes, the plant doesn't know that it needs to switch its drought tolerance on." Although this maize will be genetically modified, it will contain no foreign genes.
Contact Prof Jill Farrant on [email protected]