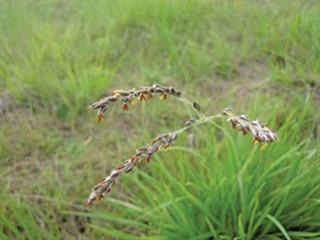 Researchers from the Department of Botany at Rhodes University in Grahamstown and the Department of Animal and Plant Sciences at the University of Sheffield in the UK are asking for readers' help in their study of Alloteropsis semialata. Also known as black- seed grass, swartsaadgras, donkersaadgras, tweevingergras and isiQuinti, this South African grass is of international interest because of its unique biology.
Black-seed grass is the only plant species in the world that utilises two different forms of photosynthesis. Photosynthesis uses sunlight to drive plant growth, and most plants employ a type that becomes inefficient in hot climates, thereby slowing growth. Some species, conversely, have evolved a 'turbo-charger' that speeds up photosynthesis under hot conditions.
WIN R5 000!

Although samples of either subspecies may be entered in the competition and will stand a chance of winning the prize, the C4 semialata form is strongly preferred for research purposes.
Place the following in an ordinary envelope:
Two leaves
10 to 20 seeds
One or two flower heads (if the head is in seed, send it as is)
The GPS co-ordinates of the site of collection
Your name and daytime contact number/s and/or email address.
Send your entry to: Black-Seed Grass Contest, c/o Prof Brad Ripley, Botany Department, Rhodes University, Grahamstown 6140, South Africa. All the entries confirmed as black-seed grass will be placed in a lucky draw and the winner will receive R5 000.
Remember, GPS co-ordinates comprise two numbers, each with a degree, minute and second value (such as S 25° 35' 01.33" and E 29° 46' 20.73"). Many cellphones provide them.
If you cannot give co-ordinates, please provide clear directions to, and a description of, the site so that it can be located easily.
The closing date for the competition is 28 February 2013.
For more details, contact Marjorie Lundgren at
[email protected]
Unique on Earth
Black-seed grass is unique because the eckloniana subspecies uses 'ordinary' C3 photosynthesis, while the semialata subspecies uses the 'turbo-charged' C4 photosynthesis. Although semialata is found throughout Africa, as well as in Asia and Australia, eckloniana occurs only in south-eastern Africa, making the overlapping region of South Africa a critical area to study both subspecies.
Current research aims to find out how, where and why the turbo-charged type of photosynthesis evolved, what environmental conditions support only the ordinary or turbo-charged types, and in what environments they co-exist. If researchers can understand why black- seed grass maintains both photosynthetic types and how this species may be evolving under climate and land-use changes, they might be able to make predictions about other important plants. The project is thus crucial for efforts to improve crop plants and manage ecosystems as global climate changes.
How you can help
The researchers require an extensive collection of black-seed grass from throughout Southern Africa, and are asking Farmer's Weekly readers for their help. Samples of either subspecies may be sent in, but those of the C4 semialata form are particularly required. Both subspecies of black-seed grass occur in Limpopo, Mpumalanga, Gauteng, North West, Free State, KwaZulu-Natal and Eastern Cape.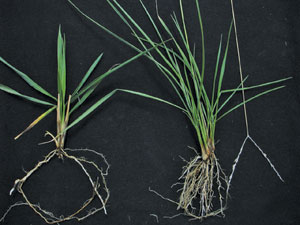 Comparison of Alloteropsis semialata subsp. eckloniana (C3) (left) and A. semialata subsp. semialata (C4) (right). Mathew Gilbert & Douglas Ibrahim
The species is important for native grassland health and grows in 14 Southern African veld types, including sourveld, thornveld, bushveld and grassveld. Although both subspecies are found in natural veld (savannah and grasslands), eckloniana is more often found in rocky, higher altitude areas with acidic soil. Black-seed grass is a densely tufted perennial that's easy to recognise in flower (between September and March).
Flowering is greatly enhanced in recently burned areas. Seeds should develop inside the flowering heads a few weeks after flowering. Please do not pick the flower heads until after the seeds have developed! The two subspecies can also be distinguished by their leaves and flowers. Eckloniana has broad, often hairy, leaves and dark, purple-brown, densely packed flowers. Semialata has narrower leaves with fewer hairs, bulbous bases, and loosely arranged flowers that are dark purple, purplish-black or brown. The lower sheaths often have dense hairs and are light brown to nearly white.
Contact Marjorie Lundgren on +44 742 955 1777 or email [email protected].
References: Acocks, JPH 1988, Veld Types of South Africa, Botanical Research Institute, Department of Agriculture and Water Supply, South Africa, 3rd edition, p. 54.Gibbs Russell, GE, Watson, L, Koekemoer, M, Smook, L, Barker, NP & Dallwitz, MJ, 1990, Grasses of southern Africa, National Botanic Gardens/Botancial Research Institute, South Africa, p. 37. Van Oudtshoorn F, 1999, Guide to Grasses of southern Africa, Briza Publications, Pretoria, South Africa, p. 233.