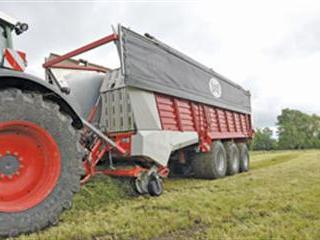 More than 40 years ago, when loader-wagons came on the scene, Dutch company Lely's German subsidiary had a huge share of the market. Now there are a number of manufacturers out there, but Lely's latest loader-wagon sets new standards, claims the company. The Tigo XR100 has a total capacity of 54m³, equating to 100m³ of material at medium compaction, a 3-axle undercarriage with hydropneumatic suspension and super-wide tyres to reduce compaction.
The extra-wide superstructure aids loading when working with a forage harvester, and the 2m-wide camless 800mm diameter rotor ensures a clean pick-up when self-loading. The advanced crop intake system ensures excellent treatment of the crop with 45 knives ensuring optimal cutting.
The secret to the extra capacity is in the bulkhead, which can be tilted. This innovative feature has various functions, including a variable automatic loading system, extra loading space and assistance when discharging. Tilted forward, it also permits an excellent view from the driver's seat when filling by means of a forage harvester.
Increasing the load space
When the Tigo XR is initially full, the bulkhead can be tilted forward (above) to create an extra 6m³ of load space. This means the total wagon length is 1m shorter than other models with a similar capacity. It also improves weight distribution, increasing traction on the tractor's rear wheels.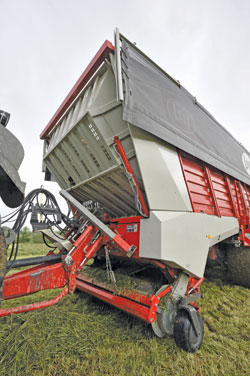 Compaction pressure
Because of variance in crop moisture, and depending on the operation, it's necessary to be able to adjust the compaction pressure in order to maintain the nutritional value of the material. When the bulkhead is tilted forward, counter pressure is reduced, avoiding pulping in wet crops. Positioning the bulkhead a few degrees to the rear increases the compression when handling dry material.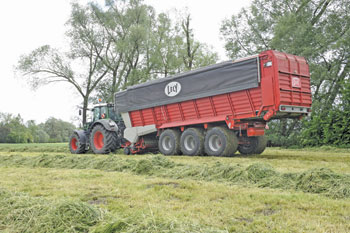 The commencement of the discharge function in a loader-wagon is critical as the whole load has to be set in motion. The moveable bulkhead assists by shifting 10% to 15% of the load rearwards. In this way less weight is exerted on the floor and there's less mass for the floor chains to set in motion. As soon as the floor chain starts up, the bulkhead inclines to the rear, pushing on the complete wagon load.