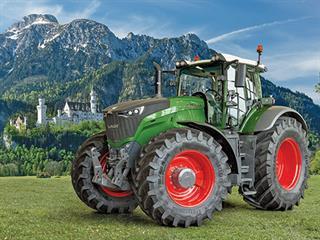 Recently introduced to the press at the fairy-tale castle of Neuschwanstein in Hohenschwangau in Bavaria, Germany, the massive new Fendt Vario 1000 series are standard tractors, easy to operate and simple to handle in spite of an overall height of 3,6m and tare weight of 14t. Compared with current designs in this power class, they are much lighter, more maneuverable and have better all-round visibility, making them more versatile.
The Fendt Vario 1000 will be available with four different power ratings: the Fendt 1038 (285kW); the 1042 (315kW); the 1046 (345kW); and the 1050 (375kW). The engine is a compact 12,4-litre six-cylinder unit from MAN. It is powerful but quiet, with high torque in the low-speed range. Common-rail, high- pressure injection ensures low fuel consumption.
The new tractor is fully roadworthy, with a top speed of up to 60km/h. Safety features include VarioGrip, Fendt Stability Control, independent wheel suspension, dual circuit brakes, reaction steering system and assistance systems for deceleration and braking.
Cab better than ever
The well-known Fendt Vario cab has been completely redesigned for the new tractor, and now offers excellent comfort with first-rate climate control air-conditioning. Roof-mounted work lights with crosswise illumination provide precise lighting, while a camera integrated into the bonnet emblem provides visibility of the front mounting area. The passenger seat can be used as a fold-down table, complete with a clamp for holding documents. Sockets on the right-hand side provide power for data exchange equipment for implement control.

Market share
This segment of the market currently accounts for only about 2 500 tractors worldwide, half of which are in North America, says Fendt's marketing director Rowland Smith. "However, we're confident we can compete in this limited market because the 1000 series can do more than one or two jobs. This should also make it more appealing in other markets where a compact high-powered tractor is required."
Don't put in your order just yet. Only two prototypes have been built so far and these will be subjected to many hours of testing before production models are built. The new Fendt tractors should be at dealers in the fourth quarter of 2015.
Getting the power to the ground
The Fendt Vario 1000 series is fitted with newly developed large tyres (the diameter of the rear set can be up to 2,35m, the largest agricultural tyres in the world) and flexible ballasting (up to 21t), are combined with the integral VarioGrip tyre pressure regulating system. These help to make the tractor highly efficient at getting 'power to the ground', resulting in extraordinary traction.
The Fendt 1000 has been developed for the international market. With a 1,5m track as an option, it's suitable for row crop markets such as North America and Australia. The rear PTO, which features a direct drive from the engine through to the PTO gearbox, is particularly efficient. The Tractor Management System automatically controls ground speed and engine speed according to the load. This means the target speed is reached quickly and kept constant. When required, immediate acceleration is possible in kick-down mode.

Source: Gros Tracteurs Passion YouTube Page