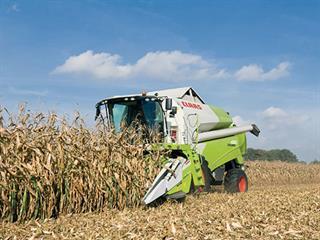 At the recent opening of a new warehouse in Port Elizabeth, Claas reported that a major portion of the next batch of the new Axos tractors, scheduled to arrive in South Africa shortly, was already sold. There are four models in the Axos range – the 310, 320, 330 and 340 – with a 4,4-litre four-cylinder turbo diesel engine and power rating from 56kW to 76kW.
Those who attended the opening of the warehouse, which is intended to improve delivery times, were told that Claas was confident it could regain its place in the combine market with the top-of-the-range Lexion 770. Powered by the Caterpillar C13 six-cylinder 12,5-litre engine, rated at 345kW and with a maximum power of 385kW, the Lexion 770 produces its massive output under any conditions, holding its own as one of the world's leading combine harvesters.
The CEMOS automatic control system makes continuous adjustments to the residual grain separation and cleaning according to harvesting conditions. This enables maximum grain throughput, superior grain quality and minimum fuel consumption. Medium-size farmers who prefer owning their combines rather than using contractors should find the Tucano 480 ideal. The well-proven APS threshing system and the recently introduced APS hybrid system ensure high output, even in difficult harvesting conditions.
Hay and forage
Claas is a leading manufacturer of hay and forage harvesting machinery, providing a range of equipment for all sizes and types of harvesting operations. It includes the Rollant 340 RC round baler and the Claas Liner 2500 rake. Its reputation is well-established in SA. Claas claims that the Rollant 340 RC is the biggest-selling silage baler in the world.