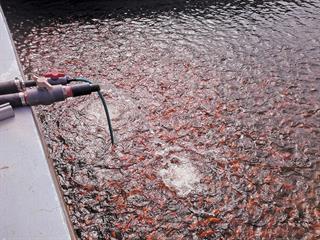 South Africa is littered with failed aquaculture ventures. This is partially a result of the country's poor economic environment, where the incentive to invest has been destroyed by government, but it is also a result of the reluctance of both state and private investors to take good advice.
Although many projects have been well-funded in terms of physical construction, there has been a failure to understand that on-the-job training is a crucial part of the investment.
The state's few remaining hatcheries are an example. During the 1970s and 1980s, numerous projects were government-funded to bring fresh protein and skills to rural areas – Turfloop Hatchery near Polokwane; Tompi Seleka Agricultural College Hatchery, Marble Hall; the Amalinda and Pirie fish stations, East London; Lydenburg Hatchery, Mpumalanga; and the Mthatha Dam Hatchery in the former Transkei.
For many years, these large capital investments yielded significant results in fish, training and skills dissemination. They are now either in decline or a dilapidated condition.
The failures
Recommendations to rehabilitate the Turfloop Hatchery, which could potentially produce millions of catfish and tilapia fingerlings, fell on deaf ears. Failure by government to listen to good advice is in conflict with the intentions of its Operation Phakisa: to promote aquaculture.
More upsetting is the trend by private investors to limit funding to physical construction, forget on-the-job training and ignore the benefits of learning from others' experience.
An example was the construction years ago of a high-capital investment trout hatchery near Cathcart by two businessmen from East London.
When the facility was completed, the owners expected two things: to visit during weekends, as long as it did not interfere with their golf, and for the man who ran it to show a list of successes. Needless to say, it never even went into production.
Aquaculture is intensive livestock production, just like that of broiler chickens, where around 15 000 chicks housed in a 100m building are reared to produce marketable broilers in a short, intensive growth period. Such intensive, hygiene- and disease-critical systems are not managed by untrained people. Neither should fish farms be.
It is a fallacy to believe that once a fish farm has been built, semi-skilled staff can take it into production. In fact, really good staff can produce higher production in a poor system than poorly trained staff in a good one.
It is all a case of understanding an alien environment and how animals that have evolved in water can grow healthily and viably at high densities.
Unfortunately, skilled operators are in short supply. The skills required are a mix of biology, engineering and good business sense – a combination that does not come out of a university, a technical institution or an operator's manual.
Engineers and accountants make the worst fish farmers due to their inability to understand this need for the multi skills that farmers have. Paying for that experience and on-the-job training is essential if a project is to succeed.
Nicholas James is an ichthyologist and hatchery owner.