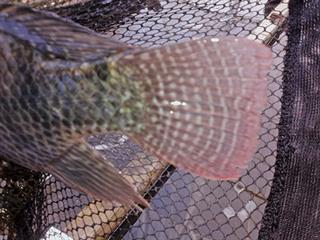 Improved strains of Nile tilapia (Oreochromis niloticus) have proved to be the most productive tilapia species used in aquaculture worldwide. Unlike Mozambique tilapia (O. mossambicus), the Nile tilapia is not indigenous to South Africa and may hybridise with and dominate local species. But it's necessary if one wants to obtain the highest yield. What are the risks associated with this productive species? South Africa's climatic conditions demand the use of closed- tunnel systems to provide adequate warmth for the survival and growth of this tropical species.
While some cold-tolerant strains of Mozambique tilapia may survive temperatures as low as 9°C for short periods during winter, research shows that the improved strains of Nile tilapia cannot tolerate temperatures below 12°C. In northern KwaZulu-Natal, reports show that even the more cold-tolerant Mozambique tilapia has succumbed at times. In the Eastern Cape, it reaches its natural range extremity only in brackish or full-strength sea-water estuaries – a condition that Nile tilapia cannot tolerate.
Further inland, in both KZN and the Eastern Cape, Mozambique tilapia are found naturally only in close proximity to the coast.
The Highveld regions of Mpumalanga and Gauteng are too cold for Mozambique tilapia, except in large dams such as the Loskop and Hartbeespoort, which act as 'thermal refuges'. The risk of Nile tilapia invasion in these areas is minimal.
Illegal introduction
Prospective legislation stipulating Nile tilapia be used only for aquaculture in areas that it has already 'invaded', stimulates its illegal (and undesirable) introduction elsewhere, and is counter-productive. Most invasions result from intentional introductions. Nile tilapia have been illegally introduced by anglers and open-pond fish farmers, and have penetrated the Limpopo River system and parts of KZN within their temperature-tolerance range. No amount of zoning will change this. To penalise law-abiding fish farmers with biosecure systems by restricting their use of Nile tilapia will only worsen the situation.

A better way
Fish grown in biosecure recirculating aquaculture systems are of little risk to the environment anywhere in the country. These systems have to be designed to ensure that no effluent water can ever reach nearby rivers. This is easy: filter sediment flushes (which may contain fish escapees) must be channelled into containment tanks, which also provide a ready source of high quality fertiliser.
Such systems can be situated away from natural water courses, and all movement of live fish into or out of such systems restricted to permit holders. In other words, if you do not have a permit for Nile tilapia farming and your system has not been inspected to ensure bio-security, you cannot use this species. If this protocol is followed, the use of the species will stimulate a growing and highly desirable aquaculture industry.
Nicholas James is an ichthyologist and hatchery owner.