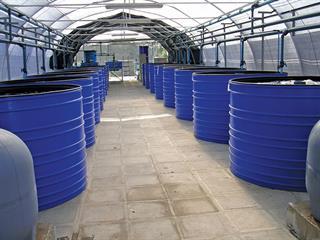 While pond and cage tilapia culture has proved itself in many parts of the world, recirculating systems for tilapia have not. I do not know of a single system in South Africa that could be promoted in its current form as a viable commercial unit with guaranteed production potential. Having said that, there are a few good systems around that, with some fine tuning, have the potential to be viable. Some, in fact, are now putting fish on the table.
South Africa has more entrepreneurs selling systems than actual tilapia farms. Most of their designs are at concept stage, with less than a full season of trials – and in some cases, no trials at all. I am always amazed at the number of people who are seduced by glib advertising to part with large sums of money.
Before investing in an expensive system, it is essential to check harvest records, growth patterns, water quality parameters and fish survival data over a full season. If these are not available, then the system is an unproven concept. Production claims must be proved, not simply based on extrapolation.
Can it withstand the stress tests?
The real test of any system is at times of stress: climatic extremes – when water temperature and oxygen content become critical – and when the stock is near harvest mass. At this stage, water quality is likely to be at its poorest, oxygen content at its lowest, and sediment build-up at its highest due to high bio-loading. A designer who extrapolates his figures based on either a new system with unmatured filtration or one stocked lightly will have no idea what will happen when that system is under pressure – and this is when large quantities of valuable stock can easily be lost.
Many system promoters base their claims of production on estimates rather than practice. Look out for claims of high stocking density, for example 40kg to 50kg fish/ m3 water. Without serious (and probably uneconomical) oxygen injection, this is simply not possible, even if the filtration really can remove all that ammonia. Anything over 30kg/m3 is probably unrealistic.
A production estimate cannot predict the build-up of nitrate in the water (the end-product of all filtration), and nitrate has a cascading effect on water quality: unicellular algae flourishes on the nitrate, depleting the oxygen content at night and increasing it during the day. Nitrate also changes pH levels. These wild fluctuations play havoc with fish growth, and there may be a risk of mortalities at night, even when daytime testing indicates sufficient oxygen.
Another parameter often ignored by system designers is sediment build-up in the grow-out tanks and filtration components. Provision to remove this sediment while still operating the filtration must be present in the design.
Also, beware of so-called 'turn-key systems'. They are invariably not site-specific, an essential prerequisite. Before investing, insist on seeing one in full operation, with all the growth and water quality statistics over a season.