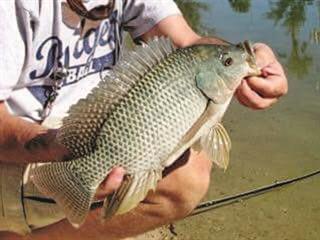 I have often contrasted South Africa's tilapia-growing industry with those in neighboring countries, and a recent visit to Zambia brought these contrasts to light. Aquaculture in South Africa is a troubled industry. With the exception of the well- established trout and abalone sectors, performance is poor and success stories few.
In the warm-water sector, tilapia have still not achieved commercial- scale production, despite widespread interest.Projects in climatically suitable areas – Limpopo, Mpumlanga and northern KwaZulu-Natal – are bedevilled by red tape and a general reluctance by government to allow industry development. Over- regulation stifles growth.
There is no reason that low-altitude areas should not develop pond-based tilapia farms where water is available; they differ little from the Zambian plateau where such production is thriving. However, despite the fact that the Nile tilapia invasion of most of these northern catchments is now history, and the species now well-established, the Department of Environmental Affairs has issued no permits for projects in these provinces.
No sanctuaries for indigenous tilapia have been created either. In Mpumalanga, conservation officials conduct a destructive campaign against even JAMESthose attempting to farm red Mozambique tilapia in the erroneous belief that they are "protecting the pure strains of Oreochromis mossambicus in the Komati River catchment".
This is ludicrous, as Nile tilapia are now frequently caught by anglers in the Komati river, having invaded from Mozambique. These officials should do what they are paid to do – work towards conservation and the establishment of secure sanctuaries rather than interfering with lawful enterprises.
Inappropriate technology
In Gauteng, North West, the Western Cape and the Eastern Cape, widely differing recirculating designs have mushroomed. Economy of operation is often ignored in favour of complicated technology, which looks impressive and works well when new. However, the proof of their efficacy is inevitably months down the road. The hot weather in December and January brought several of these systems almost to their knees, and many owners had to rethink stocking and feeding rates.
Need for cohesion
In Zambia, cooperation in aquaculture is the norm; in South Africa, it is seldom the case. Producer organisations alienate individuals and distance themselves from academic organisations, instead of forming a cohesive and supportive body. There is a dire need for technical support in the industry, and a halt to personal vendettas and provincialism.
SA aquaculture needs to unburden itself from government interference. It is absurd that a farmer who is permitted to farm a species must have his daily farm work controlled by a permit system that is chaotic, costly and achieves the opposite of what was intended.
Nicholas James is an ichthyologist and hatchery owner.