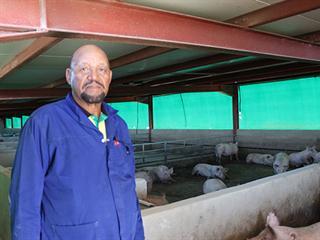 The Doornspruit piggery in Limpopo's Ga-Mashashane region was established by the Doornspruit Community Agricultural Co-operative (DCAC) in 2004. The 1 200ha farm was donated to the 216 families by the Catholic Church.
The DCAC then went on to create the Doornspruit Community Trust, currently chaired by Peter Malinga. Each family was allocated a plot and received R12 000 from the Department of Rural Development and Land Reform (DRDLR).
However, this left a great deal of land unutilised, so after several community meetings, it was decided to establish a piggery on the land.
As no infrastructure existed, it was decided that each household would contribute its settlement money – a total of R2,6 million – to get things underway, and in 2008 work began on a 160-weaner outgrower facility.
"We started building the structure, hoping to raise more funds to start farming," recalls Peter. Sadly, however, this did not happen.
For a year, the structure stood unused. Then, in 2010, the community met with Qeda Nyoka, manager of the developing farmer programme of the South African Pork Producer's Organisation (Sappo).
Sappo helped the DCAC draw up a business plan. When this was rejected by the Land Bank, Sappo approached Enterprise Foods and Trade Centre on the co-op's behalf. Enterprise Foods committed R90 000, while Trade Centre pledged R300 000.
"Sappo then helped us to get a negotiated market with Montina abattoir in Makhado in the Vhembe district," explains Peter.
Baconers delivered week by week
Sappo also arranged for a supply of weaners from Ibis piggery near Polokwane. The first batch of three-week-old weaners arrived on the farm in January 2010, and Ibis now supplies weaners to the DCAC every Thursday. "We delivered our first 20 baconers to Montina on 5 March and have been doing so every week since," says Peter.
Through Qeda Nyoka, Sappo continues to assist the co-op by linking it with markets, suppliers and funding. It also provides training, mentorship and a financial advisor.
Future plans and succession problems
Looking to the future, Peter says the DRDLR has pledged about R4,8 million for more infrastructure, including two more houses to increase capacity.
"We can then supply other markets," says Peter. "There's also talk about reopening the Mokgoopong abattoir soon." Mokgoopong is just 70km from the farm, and much closer than the Montina abattoir.
"However, there are challenges. I'm the only person involved in the day-to-day running of the project. There's no succession plan in place. If something happens and I'm unable to continue, the project faces collapse as nobody else is interested in running the piggery."
Peter has tried to encourage other community members to get involved in managing the project, but so far without success.
"But I still hope to involve young community members so they can take my place one day," he says optimistically.
Phone Peter Malinga of the Doornspruit Community Trust on 082 674 0001.
This is an abbreviated version of an article that appeared in Farmer's Weekly 17 January.