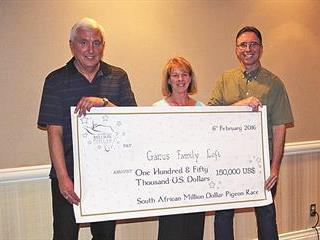 The 20th annual South African Million Dollar Pigeon Race (SAMDPR) presented by Air Sport International was held on 6 February. The first pigeon home was the aptly named Laura is a Big Winner Today!, entered by Mike and Deb Ganus from Ganus Family Loft in the US. It beat off 2 161 of the finest birds from 36 countries to record a time of eight hours, 42 minutes and 36 seconds.
The win earned the Ganuses US$150 000 (about R2 million). The pigeons were liberated near Douglas in the Northern Cape at 6.15am to travel the 530km back to the SAMDPR loft complex at Linbro Park, north-east of Johannesburg.
True to the weather forecast, the pigeons experienced a mixture of tailwinds and headwinds, but a fairly consistent temperature along the flight path. In Johannesburg, the weather was fine and warm, giving way to light rain in the late afternoon. But this cleared and visibility remained good thereafter.
The last pigeon to arrive on 6 February was another US entry, the Yankee Syndicate's Queenstown. Placed 43rd, it was timed in just before 7.11pm, having completed the journey in 12 hours, 55 minutes and 37 seconds, a testament to the quality of the birds and the good form brought out during the training period.
Pigeons continued to return the following day. No fewer than 500 were timed in at 10.21am!
From scratch
"In 1996, when we started the World Free Flight Million Dollar Pigeon Race, the concept of running a race of this nature seemed so simple," said race director Michael Holt. "Unfortunately, no bookshop we went to had a book on exactly how to do it, so we had to learn from scratch, finding out what worked, what was practical and what benefited all.
After 20 years I can honestly say that despite everything we've learnt, we are still learning and every year has posed new and unique challenges that have had to be overcome. Just as you think you know it all, something unforeseen pops up and has to be dealt with. This past season has been no exception, with worldwide outbreaks of avian influenza, delayed shipments and record high temperatures as we started training. But I'm glad to say we've done our best."
The winners
The top four South African performers were:
Boeing Doring 1 (Gaddin Bros & Charl Stander): 18:57:01.27; 12h 42m 01s 27ms (36th overall);
Freesia (Loft Einkamerer): 07:01:05.85 (7 February); 24h 46m 05s 85ms (68th);
A1-My Boy (Engelbrecht Lofts): 07:27:56.38; 25h 12m 56s 38ms (87th);
Camelot (JE Loggenberg): 07:32:06.43; 25h 17m 06s 43ms (99th).
The partnership of Lloyd & Kelly from the UK won a brand new Mercedes SLK in the Zandy Meyer Memorial Car Race with Steventon Lass. The Knock-Out Competition was won by Maria-Anna, entered by Team Germany/Girls United. Tonys Pearl, entered by Dr Mildner-Riemekasten from Germany, was the Grand Averages Champion Pigeon.
The Hot Spot Car Race Ace Pigeon was Mukiwa, entered by Ken Easley of the US. King of Hearts, entered by SAMDPR co-ordinator Saville Penkin, was the SA Grand Averages Ace. The runners-up were A1-My Boy, entered by Engelbrecht Lofts, and Storm Syndicate's Green Queen CC.
Engelbrecht Lofts' A1-Pacer was the SA Hot Spot Car Race Ace. Yaseen, entered by the Kader, Nadia, Moerat & Bouwer Syndicate, was the runner-up.