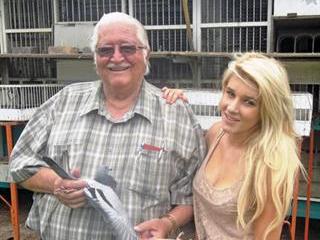 Gauteng champion fancier Chris van Jaarsveldt competes in two pigeon clubs – the Southern Suburbs Homing Society, which has 15 members, and Southern Suburbs Specialist Club, which has 12 members. The clubs operate from the same premises, but function separately.
What organisation do your clubs belong to?
The Southern Suburbs Homing Society is affiliated with the Transvaal Racing Pigeon Federation (TRPF) and the Southern Suburbs Specialist Club is affiliated with the Golden Reef Pigeon Association (GRPA). I've been with the TRPF since 1976 and the GRPA since 1986.
How many clubs are there in these organisations?
The TRPF has in the region of 16 clubs and the GRPA has eight. The TRPF has about 210 members on average and the GRPA about 180.
How many birds are raced every weekend in your clubs and organisations?
In the TRPF, an average of 2 800 pigeons are entered per week and 1 800 a week in the GRPA – so the competition is rather strong.
Also, only a limited number of pigeons are allowed in the GRPA, meaning the fanciers are more selective, which raises the standard of competition even higher.
How were you introduced to pigeon racing?
I was introduced to pigeons in 1974 when I started to assist Gauteng champion fancier Dr Arthur Brymer. My brother, two cousins and two brothers-in-law are all pigeon fanciers.
What are your recent performance highlights?
Being the 2007 and 2008 GRPA champion and the 2011 Southern Suburbs Homing Society Club champion.
What are your basic requirements of the ideal pigeon?
I enjoy a pigeon which has heart. It must defend its perch, enjoy the loft and want to come home. Of course, it must also have a pedigree bloodline from a winning family.
Can you give us a short description of the pigeons and families you keep?
I obtained high quality pigeons from the Lou Wouters family from the late Dr Brymer and his De Norre bloodlines based on his well-known Kosie family. To strengthen the gene pool in my loft I've also introduced pigeons from the De Raw Sablon and Chris Hebberechtand Schroyens bloodlines. I do line- and cross-breeding with my pigeons every year.
Can you tell us about your training methods?
I do all the home training and road training flights of my race team myself. I start on home training on 1 April and road training flights on 21 April. Initially, only short flights are done and I gradually increase the distances. The two Saturdays prior to the first official race competition, I road train at a distance equal to the first race point. The general morning road training flights are from 60km on week days, with a long flight of about 200km on Saturdays.
Every afternoon the race team home trains for about 40 minutes and is left to roam the area for another 30 minutes. I feed them sunflower, barley, grit and natural medication. I try to steer clear of antibiotics, and only give it to the pigeons when required. Every week I send four to six birds to the vet to check for common diseases such as canker, worms and pigeon malaria. On the vet's recommendation, treatment will be administered for a short duration starting on Fridays.
What is your advice to beginners in general, and to participants in one-day loft races in particular?
I'd suggest the following:
Obtain quality pigeons from a reputable champion.
Vaccinate on a regular basis.
Feed your birds well – never skimp on food.
Love them, because they know when they are loved.
Let the road select good birds and don't hesitate to remove the weak ones from your loft.
Add strong new pigeons annually.
Contact Thomas Smit on 011 680 4778 or at [email protected]. Please state 'Pigeons' in the subject line of your email.