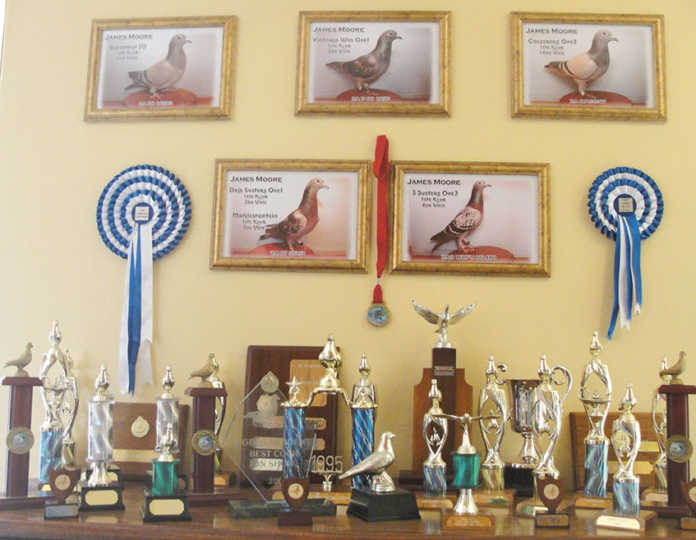 James Moore is a skilful breeder who managed to secure the transmission of hereditary qualities from generation to generation and so made his mark in the world of pigeon racing.
Due to ill health, he is retiring from the sport and on 31 July the culmination of a lifetime's work will come under the hammer at the Racing Against the Wind (RAW) Pigeon Club in Roodepoort.
Where it started
James was born in East London into a pigeon racing family. His father, uncles and grandfather Jas were all enthusiastic fanciers. His uncle, Hunter Moore, was chairperson of the Pioneers Racing Pigeon Club in the late 1960s.
In James's family three sports were paramount – boxing, rugby and pigeon racing.
In 1970 James's pigeon racing career took off. He was living in East London at the time, and won his first race as a novice member of the East London Racing Pigeon Club.
In 1973 he also won a race at Putsonderwater where only two pigeons managed to time in on the day.
However, studying and the day job intervened, and only in 1995 could James devote all his time to racing. At the time he was living in Roodekrans and was a member of the Noordheuwel Racing Pigeon Club based at the Krugersdorp Country Club, part of the West Rand Racing Pigeon Association (WRRPA).
The WRRPA covers a wide area, which means the racing is very competitive. About 2 400 pigeons are entered weekly in the short to middle distances, and about a 1 000 compete over longer distances.
Making his mark
James particularly cherishes some accomplishments:
1980, 1983, 1984: Winning the Wesvaal Reisiesduifbond Average Point League title for all races above 600km.
1981: Beating all the members of the Transvaal Beheerraad (combined) from Matjiesfontein, scoring 1st, 11th, 23rd and 25th against thousands of pigeons.
1984: Winning the Potchefstroom Racing Pigeon Club Average Point League title.
2008: Scoring 1st, 2nd and 3rd in WRRPA's R1 000 ring race.
2008: Winning the Witpoortjie sales race with a single entry.
The pigeon families
James's love for the Janssens came when he was still a novice and his grandfather bought his first imported Janssen pigeon in 1970. It was a cock that became a famous breeder from which an entire winning family emerged. James's Janssens developed into a unique family – the Border Janssens – good for longer distances.
The foundation in James's loft is made up from the imported cock and Janssens from Vic Furstenberg, Roelf Venter and George Poulton, among others.
James also moved away from the old strains that only performed well over long distances, but faded on the short and middle distances. He studied genetics at university and he could spot key breeders and select from champion lines.
He would keep the gene pool pure and only cross from the third generation. Only the best-performing pigeons survived.
Advice for beginners
"Rather save up and buy champion pigeons as opposed to less successful near kin, says James.
"The heredity needs to pass on power at the highest level to secure top quality. Routine treatments are acceptable," he adds, "but avoid unnecessary medication."