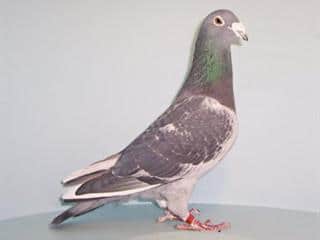 Top pigeon fancier Thys Matthysen races under the name 'Racing Silver Backs'.
Why 'Racing Silver Backs'?
My dad was a successful fancier in his own right and we used to fly as 'JJJ Matthysen & Son'. Among my trophy collection are ones for pigeons dating back to 1962, when my father won his first race in Germiston in a club with 60 flying members at the time. Then I felt it was time for me to get my own identity. My Chris Scott Putteries sometimes have a silver triangle on their backs, which isn't common among other bloodlines, hence the name 'Silver Backs'.
What clubs do you participate in?
I participate mainly in the Springs Pioneers Pigeon Club, which is affiliated to the Gauteng Pigeon Union. We have about 12 flying members in the club and about 50 members in the division. In 2011 I also raced in the East Rand Central Pigeon Club,
which is affiliated to the Golden Reef Pigeon Association. This Benoni-based club has around 15 flying members.
What have been some of your performance highlights?
I've been fortunate to have been very successful for many years. Over the past decade I've been club champion every year that I participated in the young and open series. (Some years I didn't race due to work obligations overseas.) My pigeons have won from the first race of the season to the longest race. The Three Sisters Race (about 800km) is one of our longest and sometimes we fly two races on the same day from there. Three times in the past few years I've won both of these races.
In 2009, I won 11 races out of 20 in the open series, and in 2011, I won 12 races and had 10 birds placed second and 12 birds placed third. One race I've never forgetten was in 2006, when I won the Union Yearling National but lost the car because I did not nominate the bird!
What families do you keep?
Since I started my breeding stud I've acquired 14 strains of birds at a great cost. These include Frans Sablon birds, Van Loons, Flor Engels, Schroyens and so on. My foundation pigeons are still my Silver Back Scott Putteries and my Golden Wing Janssen pigeons. They can hold their own against any birds in any race, any time!
I prefer to keep my breeding lines pure. I cross-breed for racing. I put a lot of emphasis on breeding from top hens – winners that can carry their traits over to their offspring. I believe winners breed winners, or at the very least offspring of very good racers will breed well again.
What are your training methods?
I train my birds hard on the road every day of the race season and therefore I hopper feed them. The distances and time of liberation of the road training will differ from the beginning to the end of the season.
Your advice to beginners?
Befriend a successful pigeon fancier. You'll never be successful if you aren't observant. Don't run between fanciers. All the top guys will stick to what works for them.
Contact Thomas Smit on 011 680 4778 or at [email protected]. Please state 'Pigeons' in the subject line of your email.