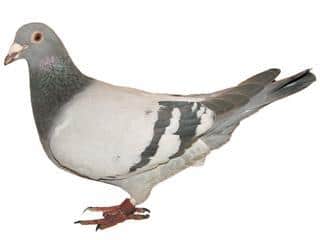 The South African Prestige Invitational Race (SAPIR) is the brainchild of Mark and Naomi Kitchenbrand of one of South Africa's best-known pigeon-racing families. It's aimed at those who seek the best genetic pigeon material in the world.
Here, Birdy springs to mind. The multiple-award winning Ace Pigeon of the Sun City Million Dollar Pigeon Race was acquired for an astronomical amount to enhance the quality of the South African gene pool. Mark realised there was a need for a venue where specialist pigeon fanciers could test their birds in a prestigious field.
The SAPIR therefore enables specialist breeders to grade their pigeons against a selected maximum of 200 world-class birds to find the supreme champion.
It's a specialists one-day loft where participants may only enter one team of three pigeons and then select one pigeon from the team as their main entry.
Veteran pigeon fancier Zandy Meyer is race director, and Specialists Young Bird Champion Corrie Naudé is the head trainer.
Upon entry all pigeons are "identity-ring obscured". This means ownership is hidden from management and loft staff and ensures no pigeon gets preferential treatment during training. Pigeons receive an electronic ring linked to their permanent ring, so that training and race results can be issued quickly and easily.
The SAPIR racing system consists of three hot spots before the main race, and an auction race held concurrently with it. The final race will be from about 700km and held every September.
Each hot spot pays R30 000 for first, R15 000 for second, R7 500 for third and R2 500 for fourth. The best bird in the hot spots is the one that's flown the least time in all three races, and will win R15 000.
For the auction stake, prizes are: first: R80 000; second: R40 000; third: R30 000; fourth: R20 000; and fifth: R10 000.
For the main race the prizes are – first: R80 000; second: R40 000; third: R30 000; fourth: R20 000; fifth: R10 000. The grand average winner is the pigeon that completed the three hot spots and the main race in the least time, and will win R20 000.
Visit the SAPIR Website at www.sapir.co.za, or contact Mark Kitchenbrand on 083 3810 212