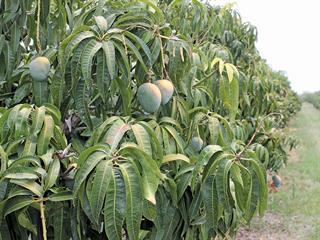 Koena Jack Moradu is an experienced farmer who comes across as someone who knows what he's doing. Farming three varieties of mango, Koena (50) owns Moradu Farming Enterprises on Henley Farm in Letsitele, which falls under the Phalaborwa Municipality in Limpopo.
In 2011 he applied for, and received, the 86ha of land that make up Moradu Farming Enterprises from the provincial department of rural development, as part of the government's land redistribution programme. In addition, he received R3,5 million in recapitalisation funding from the same department, to assist him in further developing Moradu Farming Enterprises, which is South African GAP-accredited.
Koena, who is from Polokwane, arrived in Letsitele in 1984 to work as an administration clerk for the provincial agriculture department.
"I was responsible for managing Selwane Farm, a 66ha citrus farm," Koena recalls. "In 1998, the corporation gave me another farm to manage, a 300ha mango and citrus operation in the same area. In 2001, however, I was retrenched when the corporation was restructuring."
Koena was not idle for long. He was offered the post of farm manager at Moerland Farm, a 300ha citrus and mango farm in the Letsitele region, where he worked from 2002 to 2008.
"In 2008, I resigned and started doing my own thing. I leased a 259ha farm from the Majeje Tribal Authority and farmed grapefruit and oranges. I left the farm due to differences with the authority."
In 2011, his application for a farm was approved by the provincial government.
Mango production
In 2011, when he received the farm, which has mainly loamy type soil, mangoes had already been planted on 26ha, and Koena has since planted another 9ha, bringing the total to 35ha. He plans to increase his mango production by 7,5ha, which will help to increase profits and sustain his R1,8 million per annum business operation.
"The Tommy Atkins, Kent and Keitt cultivars I grow are very good varieties which can be marketed as fresh mangoes or as dry mangoes," says Koena.
Koena received his Limpopo farm in 2011 as part of government's land redistribution programme.
The newly established 9ha mango orchard was planted with inter-row spacing of 6,5m and 2,5m spacing in the row. Prior to planting, the land was cleared and irrigation had to be installed. After the drip irrigation system was installed, trees were planted in 60cm x 60cm holes. These young trees need to be irrigated as soon as they are planted, Koena explains.
After planting, the trees are left to settle for four weeks, during which time they are only irrigated.
"One month after planting we start with top dressing. We use a fertiliser with a high concentration of nitrogen, such as urea, so that the trees can continue growing rapidly. We then prune them at the top so that they can sprout out more branches.
"I conduct a soil analysis every three years so I know how to treat the soil. Leaf samples are taken every year by consultants from JGK Consulting who then recommend a treatment programme based on their analysis."
It takes about three years before mango trees start producing, with full production after the fifth year after planting, Koena explains. He estimates that after the orchard has been established, he will spend about R15 000/ha on input costs over the three years before the trees come into bearing.
The farm has three boreholes, which pump into a 400 000l reservoir.
"We use drip irrigation because we're trying to save water. We have two drippers irrigating each tree, and each dripper can deliver 8l of water per hour."
Moradu Farming Enterprises employs 22 seasonal labourers during the harvest period, from the end of December to the end of March. In 2013, Koena harvested 100t of mangoes, increasing to 400t in 2014. He expects his 2015 yield to be about 500t.
"The graph is going up. I don't have a problem with managing my farm because I know what I should do at any given moment," says Koena, who is a board member of the Mango Growers' Association, which he joined in 2012. In 2014, Koena supplied Freshmark with 300t of first-grade mangoes and fruit-drying company Mango Magic with 100t of second-grade mangoes.
"My offtake agreement with them does not have limitations on how much I should supply them. However, I have to check when to supply them because the price fluctuates every week," he says, and revealed that he may soon be supplying Food Lover's Market.
The future
Koena aims to acquire his own packhouse, as the Valley Packhouse he currently uses is about 50km away from Moradu Farming Enterprises. He has to hire a truck to transport the mangoes from his farm to the packhouse during harvest.
"I have applied to the provincial agriculture department through the AgriBEE programme. They have already got quotations and have promised to get construction of the packhouse under way by February 2016."
He plans to plant more mango trees in 2016 to increase production and income, and says that he is expecting a turnover of about R2,5 million this year.
Koena has five sons and one daughter, Calphonia, who is an IT graduate and is responsible for the finances of the farm. He wants his son, Koena Jr, who will be completing Grade 12 in 2016, to study agriculture at the University of Limpopo.
"I want this farming enterprise to be a legacy to my children. That's why they must be involved in it."
Phone Koena Jack Moradu on 071 307 4576 or email him at [email protected].