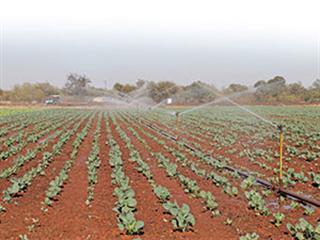 In the mid-1990s, the government approached the impoverished Onverwacht community outside the mining town of Cullinan, 40km north-east of Pretoria, with an offer to build them RDP houses. Not surprisingly, many people rushed to take up the offer. But two community members, Aubrey Bambalala and the late Patrick Mahope, were not convinced that an RDP house without an income was a particularly good offer. So they proposed that they be given the equivalent in cash to buy a neighbouring 800ha farm. But the money allocated for two houses was insufficient for this.
"The then Department of Land Affairs advised us to lobby the support of community members to forego their RDP houses and join us," recalls Aubrey. "We wanted the land to create jobs for the people and restore dignity to our community. So we started a campaign to recruit people and managed to convince about 200 families." The involvement of the community resulted in the government purchasing the land for the community in 1996 and providing beneficiaries with farming inputs and implements.
Partnership with Food and Trees for Africa
"We farmed for about three years, but things did not work out," recalls Aubrey, who is now the Onverwacht community's farm manager. "People we entrusted our finances to misspent the money and in no time we were bankrupt." For more than five years thereafter, the community leased the farm to a commercial farmer in a sharecrop arrangement. Then followed a series of meetings and discussions within the community on the future of the farm, and it was finally decided to give farming another try. The decision was given a boost in 2011 when the community was introduced to Food and Trees for Africa (FTFA), an NGO operating across the continent.

From left: Quinton Naidoo and Lytton Sadomba
FTFA is involved in teaching schools and communities to grow their own organic food, using sustainable and environmentally-compatible practices. Quinton Naidoo, head of FTFA's Feed Africa programme, explains that it places great emphasis on the permaculture principle of 'produce no waste'. According to him, FTFA focuses on creating sustainable farming businesses.
"We provide expertise and resources such as finance and infrastructure to the farmers," he explains. FTFA approaches businesses to fund projects through their corporate social investments (CSI) budgets. In the case of Onverwacht, the Vergenoeg Mining Company, which has a mine near Onverwacht, footed the bill. FTFA's programme is based on five pillars: selecting worthy beneficiaries, training, mentorship; operational support; sales and marketing.
"We select the right people with the right attitude," explains Quinton. "Thereafter we make sure that these farmers receive the right tools to make the project a success. Training and mentorship are extremely important to us. We have our own agronomists on the ground and also work with commercial farmers in the vicinity. "The next step is to make sure the farmers have suitable equipment and infrastructure. "Finally, our people help with negotiations for formal markets on behalf of the beneficiaries. We mentor the farmers for five years only – then they are expected to run the farm on their own."
Surviving a hailstorm
FTFA began working with the Onverwacht community in 2012. Of the 800ha, 14ha is under vegetables, 65ha is under maize and 25ha is used to grow crops for essential oil production. The rest is grazed by livestock. "During the first year we worked with FTFA, only 8ha was planted to vegetables – 7,5ha on open land and 0,5ha under 15 tunnels. We planted spinach, pumpkins, cabbage, tomatoes and cucumbers," explains Lytton Sadomba, production manager employed by FTFA.
Disaster struck in October of that year when the farm was hit by a devastating hailstorm. "We lost more than R1,3 million in income," he laments. "And this didn't include the damage to the infrastructure, especially the tunnels."They restarted in December, planting 11,5ha. But this time, according to Lytton, they have exceeded their expectations. Since starting harvesting in April this year, they have had a turnover of more than R380 000, and this excludes vegetables currently being harvested and packed.
Onverwacht markets its products through six Spar supermarkets in and around Pretoria, a Fruit & Veg City, Bambanani Wholesalers and the Tshwane Fresh Produce Market. In addition, it also donates vegetables every week to its employees, the local school's feeding scheme and the local crèche.
Organic farming for the future
Onverwacht's vegetables are produced without using chemicals. This, according to Lytton, makes them highly marketable.
"The world is changing for the better and we want to be part of this change," says Lytton. "That's why we decided to go organic. It reduces contamination and degradation of soil and water, both underground and in waterways. These methods are promoted by FTFA as it encompasses best practices for sustainable and viable farming."
Organic materials used at Onverwacht include kraal manure, compost and earthworm tea. "We prepare the soil using kraal manure and compost and use earthworm tea when irrigating," explains Lytton. "We breed the earthworms on a metal screen platform placed on top of a reservoir. The vegetable refuse is fed to the worms, which secrete the earthworm tea that drips into the reservoir below.
"A submersible pump is installed into the worm tea reservoir. When the reservoir is full, we pump the worm tea out into the tanks that supply water for irrigation. We use this to fertilise the crops instead of chemical fertiliser." The solid waste material in the earthworm cages turns into compost and is also harvested and applied when preparing the soil. This compost provides soil nutrients, organic matter, and beneficial micro-organisms to the soil, improving crop health, growth, quality and yield.
"It's a myth that organic farming cannot feed the ever-increasing population," contends Lytton. "In seven standard (30m x 10m) tunnels, we had a yield of 43,4t of tomatoes. This exceeded our expectations. And our organically grown pumpkins yielded 40t/ ha, while conventionally grown pumpkins in this area yield between 15t/ha and 20t/ ha.
Changing lives
Aubrey says that the farm has changed many lives in the community. "It employs more than 50 community members full-time – and the community also owns it. This is something that makes us very proud." But what makes Aubrey proudest of all is that Onverwacht has set aside a piece of land on which to build decent houses for beneficiaries. "Now that the farm is up and running and making money, we'll use the proceeds to build decent houses for all 200 families who sacrificed their RDP houses to build this farm," he says.
Contact Aubrey Bambalala on 073 192 6353 or Quinton Naidoo on 084 444 6310.