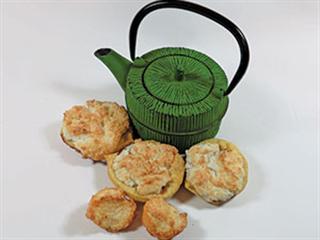 To bake a batch of coconut meringue tarts you will need:
For the pastry:
250g flour | 1 egg yolk | 60ml iced water
150g butter straight from the fridge | 5ml caster sugar | 5ml salt
For the meringue topping:
3 egg whites | 185g caster sugar
185g shredded dried coconut | Jam
Baking coconut meringue tarts is a complex process involving careful control of temperature, mixing methods and as always, the right equipment. The novel item here is using a marble slab of about 700mm by 500mm for the work surface. This assists with temperature control during the pastry manufacturing. The secret of good pastry is to keep the ingredients as cool as possible. Weigh the flour, caster sugar and salt, then sift them together into the bowl of a food processor. Sifting not only combines the dry ingredients but also eliminates lumps and the odd foreign body.
Remove the butter from the fridge, weigh the correct amount and quickly cut it into 6mm cubes, preferably working on the marble slab or any other chilled work surface. Add this to the ingredients sifted into the food processor, and switching it on for short bursts, blend the ingredients until they have a similar texture to that of bread crumbs. Mix the yolk and the cold or iced water, and quickly add this to the contents of the food processor.
Mix briefly to combine all the ingredients, taking care not to over-beat the mixture. Empty the contents of the food processor onto the work surface and using well-washed hands, combine the mixture into a ball. Wrap this in cling wrap and refrigerate for an hour or so. While the pastry is chilling, make the coconut meringue topping. Separate three eggs and whip the whites either in a mixer fitted with a ball whisk or by hand until they are stiff. At this point, gradually add half the caster sugar, then fold in the rest along with the shredded coconut.
Once the dough has been chilled sufficiently, dust a cold marble work surface with flour and roll out the ball of pastry to a thickness of 5mm. Cut out circles of the same diameter as the depressions in the tart baking tray and lay them in the depressions. Place a couple of tablespoons of dried beans on top of the dough and place them into a preheated oven at 200°C for 10 minutes.
The beans provide sufficient weight to prevent bubbles forming in the pasty and have no effect on the flavour. Remove from the oven and let the tart bases cool. Discard the beans. Place a teaspoon of jam in each base, then top it with the coconut meringue mixture. Return the baking tray to the oven at 180°C for 15 minutes and watch it carefully to avoid burning. Any surplus coconut meringue can be baked on baking paper at the same time.
Enjoy!