"It's all about rands. A Bonsmara is a bigger animal and it has a good weight.'' This is Lawrence Maduna's simple answer when asked why he moved towards the Bonsmara instead of any other indigenous breed. He explains that although he appreciates the hardiness of indigenous breeds, pure, medium-framed Bonsmaras are able to produce heavier weaners, while still being able to adapt effectively to the conditions on his two properties, Elsieskraal (771 ha) near Lady Grey, and Killarney (1 200ha) in the nearby Barkly East area.
From businessman to beef farmer
Getting the title deed to Elsieskraal in 2007, via the Land Redistribution for Agricultural Development (LRAD) land reform programme, was a defining moment for Lawrence. It allowed him to escape the restrictiveness of communal farming, and adopt a more commercial approach. It was also the first property he owned. Before being awarded Elsieskraal, Lawrence had been involved in a motor spare parts business in Sterkspruit, while his livestock initiative in the former Transkei ensured a secondary income.
"All my life I aspired to own something more, especially land, and when the opportunity came for people to get land I jumped at it,'' he says. Starting farm operations on Elsieskraal, however, came with a certain amount of self-sacrifice. Not only did Lawrence have to forgo the financial security his business in Sterkspruit afforded him, he also had to make a significant investment in his new agricultural venture by securing a R500 000 bond on Elsieskraal. The remaining R700 000 of the purchase price was covered by the LRAD land reform programme.
The input costs needed for the 53 head of Drakensberger cattle and 165 Dohne Merinos included in the LRAD deal put considerable pressure on Lawrence. Fortunately, the Department of Rural Development and Land Reform's (DRDLR) recapitalisation programme did much to alleviate the initial financial pressure.
"When I came here I thought farming was chicken feed, but it's expensive and I found I was swimming in a very big pool,'' he recalls. "Had the government not intervened I wouldn't be where I am today.''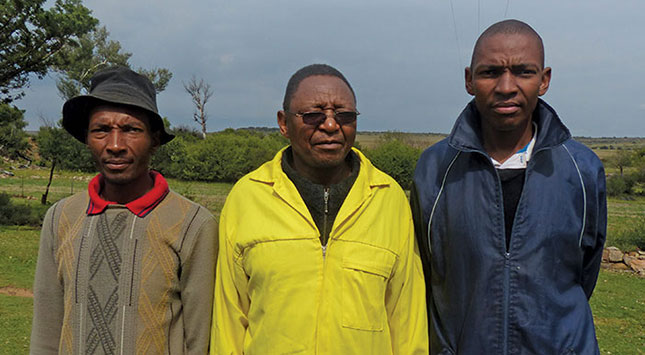 When he settled on Elsieskraal, Lawrence brought 30 crossbred cows from the former Transkei. These animals included Nguni-type animals which augmented the existing 50 pure Drakensberger cows and three bulls on the farm.
Introduction to Bonsmaras
Lawrence was introduced to the Bonsmara breed in 2010, when the Eastern Cape department of agriculture donated a group of 24 Bonsmara heifers and a bull to him. Lawrence was so impressed with these Bonsmara heifers (despite finding out later that they were culls) that when he had the opportunity to acquire more cattle in 2012, thanks to the DRDLR's R2,5 million recapitalisation grant, he immediately sourced 56 in-calf Bonsmara heifers and one stud bull from the southern Free State.
"When the government started recapitalising the farmers, I was fortunate to be one of the first people to be approved for it, and went for Bonsmaras,'' he recalls.
Today, his herd of 160 breeding females – run on both Elsieskraal and Killarney – consists of Bonsmaras (85%), Drakensbergers (10%) and Nguni-type animals (5%). The total Maduna herd achieved an outstanding calving rate of 98% in 2014. Animals that failed to calve were immediately culled and sold in the informal markets of the former Transkei.
Females are mated in single and multiple sire herds from December to the end of February, while calves are weaned at between six and seven months and marketed at eight months from the veld to formal weaner markets. About 40 cows are culled a year and replaced with selected Bonsmara heifers and these are put to the bull at 18 months. Of his six current herd sires, five are Bonsmaras and one a Drakensberger.
All cattle receive a phosphate lick in summer and a protein lick in winter, and benefit from the 85ha oats and 15ha maize on the Madunas' two farms. The animals are dipped once every two months to combat tick-borne diseases.

Future investment
According to Lawrence, effective livestock production – despite the increasing cost of production inputs and climate risks – remains a good investment option. He explains that simple mathematics proves this, as a cow, if managed effectively, should produce a calf once a year.
"[Livestock] farming is a good business,'' he says. "It's only in farming where you get 100% return on investment."
Lawrence's long-term goal is to increase his herd to 2 000 Bonsmara breeding females before leaving the farming operation to his sons.
"I aspire to be a commercial farmer,'' he says. "To do that, I have to increase the size of my land."
Adding genetic value
Lawrence explains that profits can be significantly improved by adding genetic value to beef cattle and he is therefore in the process of registering a Bonsmara stud that will allow him to market animals at a premium, as well as supplying upcoming beef farmers with quality livestock.
"We sell good animals to Sparta and Karan Beef,'' he says. "From now on, though, we're also going to breed our own bulls and sell to our fellow emerging farmers.''
This dovetails with Lawrence's personal passion to contribute to the development of the small-scale beef sector. A member of the National African Farmers' Union (Nafu), he is currently mentoring 10 of the 18 developing farmers involved in the local Imbumba Beef production cooperative. He explains that the establishment of the cooperative in 2008 had been aimed not only at accessing funds and resources, but to assist members in formulating business plans and improving livestock marketing. It also offers experiential training to students from agricultural training institutions.

Title deeds
Lawrence contends, however, that the expansion of the emerging agricultural sector is being hampered by the Proactive Land Acquisition Strategy (PLAS) land reform programme that leases state land to farmers. A lack of a title deed makes it very difficult for a farmer to source funding from financial institutions, and they are understandably nervous about investing hard-earned money in land they do not own.
He says although the state recapitalisation initiative is supposed to counter these risks, he has not been awarded recapitalisation funds for Killarney, acquired through the PLAS programme, making it impossible for him to plan long-term investment strategies.
"I'm farming there, but I can't develop the farm,'' he explains. "Whatever I do there, I'm losing money.''
Phone Lawrence Maduna on 082 494 8322.
This article was originally published on 1 May 2015 in Farmer's Weekly.