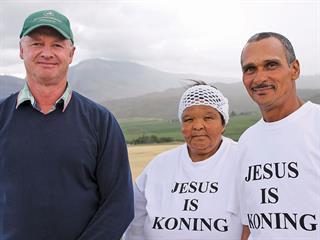 Please excuse my purse," Elsie Oliphant says with a smile as she retrieves a single sheet of lined paper from her bosom.She smooths it out on the table, saying that she wrote everything down to make sure she doesn't leave anything out. Elsie is one of about 30 farm workers employed by De Kock Boerdery on the apple and pear farm De Eiken in Ceres who sings in the farm's award- winning choirs. She also runs the farm's crèche. "We started singing in 2007," she says after double-checking the date on her notes.
Daily devotions
Inspired by a course on living a purpose-driven life he attended at his local church, Wilhelm de Kock, owner of De Kock Boerdery, decided to start leading the workers in morning devotional sessions in 2007.Elsie says some of the women who attended these prayer, scripture and educational meetings wanted to contribute in some way, and decided to start singing hymns.
"We enjoyed the singing and were surprised by how good we sounded when we sang together as a group," she recalls. This sparked the idea of starting a farm worker choir. And although they had been singing for about seven years, the farm's mixed choir was the overall winner at the Suidoosterfees/ Rapport/ATKV Farm Choir competition in 2012. All three choirs, men, women and mixed, have been chosen to compete in the finals of the competition next year.
The women's choir conducted by Willem Krotz. About 30 farm workers sing in the De Eiken farm's three choirs.
Hard work paid off
Senior supervisor, Willem Krotz, who coaches and conducts all three choirs, has no formal music training. "I can't read sheet music, but I have a good ear," he says. He also plays the keyboard by ear. However, Willem has not spent his whole life on the straight and narrow. "I lived quite a rough life when I was younger, but gradually learnt that this type of life held very little meaning."
After Willem became a devout Christian, his singing became a form of worship with which to express his love and gratitude to God. Elsie's experience of singing in the choir is similar to Willem's. "For most of us, singing is a way of praising the Lord, and singing replenishes our souls," she says.
Willem can be a demanding task master. "I'm quite strict," he admits and Elsie nods in agreement. The choirs practise two nights a week, but during the three to four weeks leading up to a competition or big performance, they practise up to four nights per week.
Singing for a better life
The farm worker choirs soon became a vehicle for change in this farm worker community, not least of all because it gave the people something to do in their free time. "It's when people are idle that they start getting involved with all the wrong things," says Willem. "When we first started the choirs, almost all the workers on the farm were using alcohol excessively. But for those who started singing in the choirs this uplifting group activity became their saving grace."
It gave them something to fill their idle hours and also the inspiration they needed to change their lives, he says. Drinking is an absolute no-no for choir members. The choirs also became inspirational tools. "Being a member of the choir gives a person a certain level of prestige," Willem says.
Choir members often go on excursions to take part in competitions, and perform in churches and at other events. They are therefore well-known and respected in the wider Ceres community. "We want people to look up to those of us who sing in the choir. We want to set an example and be role models in the farm worker community," says Elsie.
Sometimes the only inspiration a person needs to consider changing his/her life, is to see that there is another path to take, a different way to live, she says. The choir also serves as a support structure for those not getting much positive input from their families.
"Some of the people in the choir, especially the younger ones, come from homes where one or both of their parents drink. They get little encouragement from their families to rise above their circumstances," says Willem. Like many of the people who sing in the choir, Elsie's own husband has struggled to keep away from the bottle for most of his life.
"I think the choir has saved his life," she says.
A sense of pride and purpose
According to Wilhelm, one of the main objectives of establishing the choirs was to bring a sense of pride, purpose and responsibility to the lives of the people who live and work on his farm. For those in the choir, the experience builds trust and camaraderie. "The people who sing in the choir are by and large those workers who are trustworthy and able to work efficiently as part of a team," says Wilhelm.
Willem agrees. "We can only thank God for a person like Wilhelm. If it weren't for his support and motivation, these choirs would never have amounted to very much. I don't know if he always realises the full impact of everything he does for us."
Dedication
It has taken Wilhelm a long time and a lot of effort to instil a renewed sense of pride and self-worth in the people who work for him. He recalls one particular Saturday when he had to pick workers off the ground who had passed out after a heavy night of drinking, while driving around the farm.
"When I first decided that I wanted the people who work for me to have a better quality of life, I thought they needed to earn more money. I gave them more money, but they only used that to drink more. Then I thought that maybe I should renovate their houses, so I painted all the houses, but this also made little difference," he recalls.
That was when Wilhelm realised that he needed to become 'invested' in the farm workers' lives, and get involved in their spiritual well-being. He says it was only when he started the scripture and prayer meetings about seven years ago, that something started changing. "Farmers from other farms in the area can't believe it when they see the people who work for me turn up for work on a Saturday, sober," he says.
Phone De Kock Boerdery on 023 316 2823 or email [email protected].