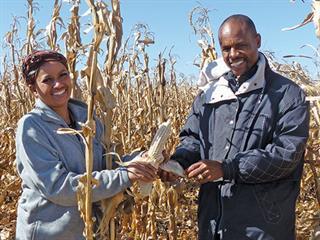 "Bonsmara cattle generate a lot of money,'' says Pinky Buthelezi. "Selling them is easy, because the market wants them.''
Although she is enthusiastic about her Bonsmaras and convinced of their ability to produce, Pinky points out the importance of spreading risk through a mixed farming operation of cattle, sheep, goats and maize, and stresses the importance of being patient.
"In farming, you have to wait until you see progress. There's no quick money," she says.
Humble beginnings
Pinky grew up in a communal area near Vryheid and, being the youngest in her family, spent some time looking after the family's livestock after her brothers left the area. "That's why I have passion for farming," she says. After her schooling, Pinky left for the bright lights of Gauteng. By 2000, she had taken a job as a cashier in a large retail store in Alberton. The years of monotonous work made her despondent, however, and the ambitious Pinky decided that she had to have a change.
"It wasn't for me because there was no money in it," she explains. "I just worked to eat and pay the rent."
She investigated the possibilities of farming on the Highveld and was eventually granted permission to run livestock, including 10 cattle, on the Heidelberg commonage in 2007. But farming on commonage had serious challenges, including the inability to manage livestock effectively, and a shortage of forage during times of drought.
Pinky remained determined to farm, however, and in 2007 she approached the Gauteng Department of Agriculture and Rural Development for land. As a result, she became caretaker of a 78ha farm owned by the state outside Balfour in Mpumalanga. Although she realised that it was not a long-term solution, she revelled in the opportunity to farm independently. Soon, however, she realised that the farm was too small to accommodate her growing livestock numbers.
"Most of the farm was for planting, not for grazing, and my livestock suffered," she recalls. "I went to the department and asked for a larger farm with better grazing."

Pinky's herd of 98 cows is dominated by Bonsmara genetics, with some Santa Gertrudis cows.
Commercial cattle farming on Leeuwfontein
Eventually in 2009, she was awarded the 490ha Leeuwfontein farm with 214ha arable land near Nigel through the state's Proactive Land Acquisition Strategy (PLAS). Although she currently pays a lease of R200 000 a year to the state for Leeuwfontein, she received a R5 040 000 Recapitalisation and Development Programme (RADP) grant in 2009.
With it, she bought two tractors, reconditioned the homestead, repaired and replaced old fencing and bought cattle, including 47 Bonsmara heifers, 52 Santa Gertrudis cows, three Bonsmara bulls and a Santa Gertrudis bull. All receive a protein lick in winter and a phosphate lick in summer, and graze on maize stover in winter.
Today, Pinky's herd consists of 98 breeding females. A further 34 selected replacement heifers will be added to the herd in 2014, all mated to Bonsmara bulls. Although her crossbred Bonsmara/Santa weaners are of good quality, she is determined to become a registered Bonsmara breeder. Bonsmara females are put to the bull from October to December in four single-sire herds. Heifers calve for the first time at between 18 to 24 months.
In 2013, her herd achieved a 98% calving rate. Calves are weaned at six months and marketed to Karan Beef and at a local weaner sale at nine months, at an average weight of between 240kg and 250kg. However, the 2014 calving season will be more complicated as neighbouring bulls jumped the fence outside the 2013 breeding season and gained access to several females. This was a great disappointment.
Spreading risk and embracing support
"I can't rely on only one thing when farming,'' says Pinky. "If I see that livestock is not profitable, I must have something else."
Despite her focus on commercial beef, she also produces maize and sells sheep, goats and Brahman-type cattle to traditional markets. In 2012, she planted 214ha to white and yellow maize that averaged 6t/ ha, marketing it all to the World Food Programme. Last year's heavy rain prevented tractors from entering the lands during the planting season, limiting planting to only 170ha. Flocks of 140 sheep (Merino and Dorper) and 80 goats supply traditional markets, funerals and weddings. She also produces cattle for traditional markets from about 20 Brahman-type breeding cows.
Pinky admits that farming can be extremely challenging, and appreciates the recapitalisation grant she received in 2009.
"At least the government tries something because it sees that black farmers are failing," she says. "Who can buy a tractor for half-a-million rand?"
Pinky explains that the support from the ARC's livestock improvement and management initiatives, such as the Kaonafatso ya Dikgomo programme, is invaluable, while the Gauteng Department of Agriculture and Rural Development extension service has offered important support to her farming enterprise. She is a member of a Grain SA study group that meets every month and is impressed by the assistance and advice received from surrounding white commercial farmers.
"When I call my neighbouring farmers to ask for information, they help me willingly," she says.
"Most are on good terms with us."
Solid community relationships are crucial when facing a collective threat such as fire.
"Fire is a big challenge each and every year," she concludes.
Phone Pinky Buthelezi on 083 333 0941.