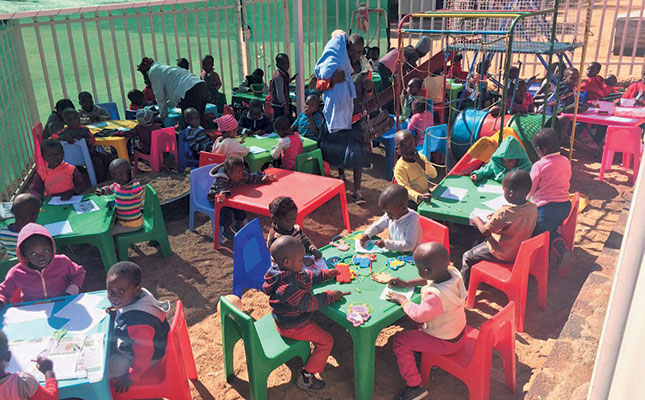 A study conducted by the UN Food and Agriculture Organization found that in sub-Saharan Africa, agriculture was the most important source of employment for women by a wide margin.
Yet many women employed on farms, either permanently or as seasonal labourers, face a multiple burden. They are often their families' sole breadwinners, raise their children largely on their own, and worry about their safety while working as fruit pickers or in packhouses.
Stéfan and Anné Pretorius, owners of Katlego Sitrus near Marble Hall in Limpopo, did not want the women working on their farms, as well as on other farms in the area, to suffer these difficulties, and established Lesedi Day Care (LDC) in 2012. As a registered non-profit organisation, it provides care to between 36 and 52 farmworkers' children up to the age of five.
This day care facility ensures that working mothers can earn an income and be assured that their children are safe, fed properly and receive quality early childhood education in a nurturing environment.
"The children are quite content to have their parents close by in the packhouse or on the farm in the orchards," Anné says.
Identifying a need
Having raised two daughters, Anné and Stéfan were acutely aware of the lack of early childhood development centres in farming communities.
"We realised that many women in the community cannot take up formal employment because they have no one to take care of their young children," Anné says.
"We often find that siblings are left to look after their younger brothers or sisters. With the young ones at crèche, the older siblings can focus on their own schoolwork."
Children receive nutritious meals, participate in educational activities that prepare them for primary school, and are given a hot bath after a busy day of learning and playing.
The trained teachers develop a relationship with every child, which helps them to quickly identify any developmental delays or health problems. When Ashleigh Malunga (5) attended LDC in 2015, Anné and the teachers were concerned that he was not participating in class.
"We thought the problem was hearing-related but when his hearing was tested at the Whispers Speech and Hearing Centre in Pretoria, [no problems were found]," she says.
Ashleigh was diagnosed with apraxia, a motor speech disorder. Although it is a permanent condition, LDC staff helped with remedial treatment.
LDC has branched out to provide adult education and basic training (ABET) for farmworkers. The first group of nine adults completed the ABET programme in 2013, and a new group will start the programme next year.
Experiencing farm life
Children are regularly given the opportunity to immerse themselves in farm life, and learn to appreciate nature and see where their food comes from. They also frequently undertake day trips on the farm to experience different facets of the production process.
LDC also established a vegetable garden specifically for the children where they can plant and look after their own produce. An additional 0,55ha is now being prepared for farmworkers to grow their own vegetables to supplement their diets or sell for extra income.
Anné adds that farmers can play an important role in helping farmworkers' children gain access to quality education.
Phone Anné on 012 819 1121.