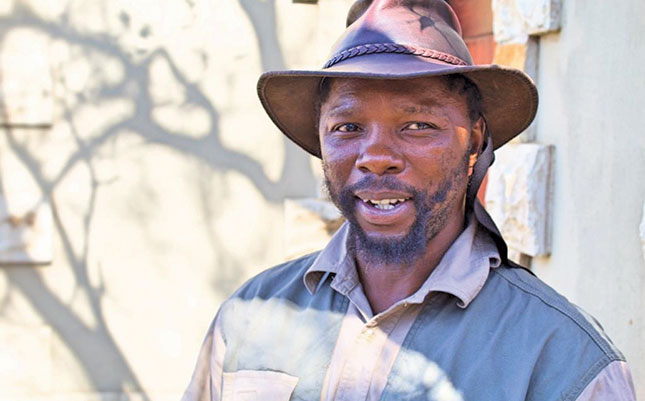 Less than a decade ago, Lengau Mothiane had to rely on a lift to transport the 10 sheep he had bought at an auction back to the family farm more than 100km away. He now farms 150 South African Mutton Merino sheep and a herd of about 70 Bonsmara-Brahman cattle.
The 35-year-old agripreneur also owns his own business and is providing contract work to at least 25 previously unemployed people.
"It's a good feeling to know you're helping to support so many families, especially at a time like this," he says.
Born into farming
Mothiane is a third-generation farmer, born and raised in QwaQwa in the Free State.
"I never lived in a township; I grew up knowing farming," he says.
His father, Albert, used to grow vegetables at sites located at clinics and old-age homes in the QwaQwa region; this was also where Mothiane completed his primary and secondary schooling.
Around 2012, the family moved to their own 445ha farm in the Heilbron district. It was immediately apparent, however, that this was a different type of farm to what they were used to.
"My father looked at this dryland without irrigation and realised he wasn't going to make it trying to farm vegetables. So he decided to opt for cattle."
Mothiane qualified as a solar technician after school, but struggled to make a living in the early days of the renewables industry and returned to the farm.
In 2013, the family entrusted him with his sister's lobola, which was to be used to fund her wedding in six months' time.
This seemed too good an opportunity to pass up. Mothiane had been gaining experience in sheep farming through interactions with neighbouring farmer Piet Claassen, from whom he had also bought some lambs for his foundation herd. Eager to fast-track the process, he decided to 'invest' some of his sister's lobola money.
He made his way to an auction at Frankfort where he spent half of the money on a flock of 10 Van Rooy ewes.
"I didn't have any transport, of course, but I had to get them back to the farm. So I lined them up and started to drive them. I was a herder; I knew how to drive sheep."
Not long after he had left the auction with his flock, he was stopped by a local police officer. Asked for papers to verify ownership, he explained that he had to drive his sheep more than 100km to get them home.
"He told me to wait there and later on organised for someone to help by transporting the sheep home."
Buying the sheep was a huge gamble, as he made the investment without consulting his father, but six months later he had made the money back, with interest.
"I could also provide all the sheep we needed to slaughter for the wedding," he says.
One step at a time
Despite his entrepreneurial spirit and appetite for risk, Mothiane certainly didn't find his
new venture plain sailing. A lack of knowledge as well as resources, including his inability to access support through government initiatives, were amongst the main challenges.
The family had meanwhile begun the shift to cattle farming with a herd of about 45 mixed-breed cattle of fairly poor quality.
"Then one day, my father went to a farmer's day at Sernick," recalls Mothiane. "And it was here that we first met Patrick Sekwatlakwatla."
Sekwatlakwatla is a representative of the Sernick Emerging Farmers programme, a development initiative hosted in partnership with the Jobs Fund. These farmers are able to access genetics and production and marketing links within the broader Sernick value chain.
Mothiane says that in their quest to improve as cattle farmers, he and other members of the family then started participating in the farmer development programme.
The Sernick programme also afforded him a valuable opportunity to share in the experiences of farmers elsewhere in Africa through a partnership with a UN initiative on sustainable development. In 2018/2019, he went on a trip to Burkina Faso that changed his attitude completely.
"I'd thought South Africa was one of the poorest places until I arrived in Burkina Faso. Where we use a tractor, they use hoes.
"When they heard that our farm was more than 400ha, it was as if I was a king among them. The farmers there own only one or two acres [0,4ha to 0,8ha] of land each."
Apart from attending courses and gaining knowledge at Sernick, Mothiane also used the opportunity to gain hands-on experience.
"I always volunteered to work there, working at night. They were open to us and this gave us a chance to gain experience."
This experience, along with the good name he had built up for himself, proved crucial when he established his business, Horizon Southern Group, which was registered in 2019.
Jack of all trades
On his return from Burkina Faso, he invested in equipment that enabled him to carry out para-veterinary services in the community. This included doing vaccinations, and branding and dehorning cattle.
"I was almost like a private extension officer who could fill the gap between the farmer and the service provider," he says.
In addition, he used the experience he had gained through years of practical, hands-on assistance to expand into infrastructure work such as fencing and windmill repairs.
"I'd helped repair windmills for many years and could see what people were doing. I could also see how to do a better job. It was windmill work that bought me my first car," he recalls.
His dedication and attitude at Sernick also paved the way for him to secure contract work.
"They nurtured me from class to field, and now [I feel as if] I'm part of the backbone of the company," he says proudly.
Mothiane's farmer support services business grew rapidly from this point, and it was not long before he had employed three more people to help with the work streaming in. This grew to 10, and by the time South Africa entered the COVID- 19 lockdown in March, between 15 and 20 people were working for him.
"These were all guys who didn't have jobs, who needed a chance," he says.
The lockdown hit all of them hard, however, and severely reduced cash flow during the time they were unable to operate. Even when operations resumed, problems with sourcing supplies continued to hamper the business. The upside, however, was that the services Mothiane offers remained in demand. This meant that he and his crew could resume work early on, and by the beginning of July, Horizon Southern Group was growing again.
"I've just signed on another 10 people on a 12-month contract," he says. This brings his total staff complement to 25.
While his family has been farming for generations, Mothiane says he was once deeply frustrated by their level of development in comparison with their commercial counterparts.
"There was a time when I had a very negative view of white commercial farmers," he says.
Mothiane's outlook is quite different nowadays. This is due partly to the opportunities gained through the Sernick programmes, including his eye-opening visit to Burkina Faso, and partly from realising he could make a valuable contribution in his own right.
"I'm doing work for people with farms that are far bigger than mine, 2 000ha plus. Even though they're far advanced, I still have knowledge [they need] and they rely on my services."
He urges the youth not to stereotype people, and calls on all farmers to follow the example set by Nick Serfontein, owner of the Sernick Group.
"We need to have co-operation between black and white, young and old, women and men. We must share our ideas, otherwise I don't know where this country will go," he says.
Other people who have helped him on his journey include the Mosweu family, Sekwatlakwatla, Carel Serfontein and David Whitfield, among many others.
Phone Lengau Mothiane on 078 687 7280, or email him at [email protected].