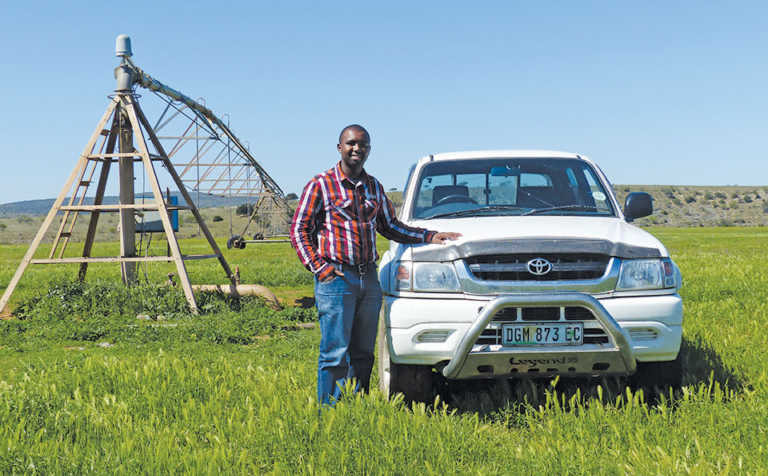 "It's all about the business and economics of it at the end of the day. While it's nice to be out here, it has to work,'' says 28-year-old Aviwe Gxotiwe of Soutvleij farm near Somerset East in the Eastern Cape.
"Your skin colour is not a guarantee. Performance is what counts at the end of the day.''
Aviwe grew up in the communal areas of the former Ciskei before his father, Harry, received Soutvleij through the Proactive Land Acquisition Strategy (PLAS) land reform programme. He stresses, however, that receiving the farm was a privilege and a significant opportunity.
"I think in our country, and in particular the Eastern Cape, having this scale of operation under irrigation is quite rare for a young emerging farmer,'' he says. "It's an endeavour, which if successful, can unleash major opportunities.''
Getting off the ground
Aviwe attended junior school at St Andrew's Preparatory School in Grahamstown before finishing high school at Queens College in Queenstown. He then attended the University of the Free State where he studied law. After four years, however, he realised that his true interest lay in becoming a farmer.
"I wanted to take the risk and pursue entrepreneurship,'' he recalls.
In 2010, Aviwe found himself back on the 160ha Tyhume family farm in the former Ciskei on which Harry had been farming since the late 1980s. By then, the former citrus farm had been under the administration of the Ciskei parastatal, Ulimocor, where Harry became a packhouse manager in 1989.
With the disintegration of the Ciskei imminent, Harry was able to negotiate the purchase of the property. He has never received the title deed, however, due to complexities surrounding debt owed by the farm's previous owners.
By 2010, the Gxotiwes were phasing out citrus and experimenting with vegetables and livestock, including indigenous goats and Nguni cattle, with the assistance of John Schenk, owner of a timber business in the area.
The small property wedged between communal areas had its limitations however, and it was decided that Aviwe should look into trading produce to surrounding communities and towns until more land could be secured.
Trading career
For the next three years Aviwe sold produce, mainly milk, from the back of a bakkie in the former Ciskei. He sourced the milk from a dairy in the Hogsback area.
Criss-crossing the communal areas, he also hawked vegetables and firewood using the opportunity to cut his teeth as an entrepreneur. It was a tough but rewarding experience, during which he developed a deep respect for the hardworking immigrant traders of the region.
"It was a great period – painful but great," he recalls. "I take my hat off to the Somali and Pakistani traders.''
He adds that one of the most important lessons he learnt was just how demanding customers can be, including lower-income customers.
"Often, people think the underprivileged or under- resourced areas don't care about quality. But I tell you what – they care,'' he says.
Move to the Fish River
The opportunity to start farming on Soutvleij arose in 2012 when a proposed biofuel project in the area was placed on hold.
It had been planned over a decade ago by the Industrial Development Corporation (IDC), the Central Energy Fund (CEF) and Sugar Beet South Africa (now the Agrarian Research & Development Agency – ARDA – under the auspices of the Eastern Cape Rural Development Agency – ECRDA).
Soutvleij was one of more than 20 farms totalling about 16 000ha purchased by the Department of Rural Development and Land Reform (DRDLR) at a cost of almost R350 million to produce sugar beet (feedstock for a proposed locally-based biofuel plant) in the Cradock, Cookhouse and Somerset East districts.
The farms were placed under the caretakership of Arengo 316 (Pty) Ltd, a joint venture between the IDC, CEF and Sugar Beet South Africa. Arengo 316 then tasked ARDA with maintaining the properties at minimal cost, until the biofuel plant in Cradock was completed.
Years passed and then the plans were changed to establish an ethanol plant instead. Emerging farmers including Harry seized the opportunity and approached the various stakeholders to make the farms available to them in the meantime.
Eventually, in 2013, the farms were officially awarded to beneficiaries, although the Gxotiwes had managed to gain access to Soutvleij the year before.
"We entered into involved and intensive discussions [in 2011] with DRDLR, and nine months later 26 farms were opened up to black farmers,'' says Aviwe, who along with his father is in the process of securing a 30-year lease for the farm.
Great potential, but great problems
Although Soutvleij had great productive potential there were serious problems on their arrival in 2012, recalls Aviwe.
Under ARDA's management, fencing had disappeared, the pivots had been damaged, the home and outbuildings had been stripped to the last tap and fitting, and an Eskom bill of over R200 000 had not been settled.
Harry was awarded R700 000 in emergency funding from the DRDLR to cover outstanding electricity bills and wages, maintain a 40ha lucerne land and establish 60ha maize (both under irrigation).
The Gxotiwes' livestock was also moved to Soutvleij from Alice. Today, there are 300 goats, 500 Mutton Merino and Merino ewes, 100 Nguni breeding cows, and 30 dairy cows.
In 2013, Harry secured another R1,2 million emergency funding from the DRDLR to fund the replanting of the 60ha maize land under irrigation. This achieved a yield of 8t/ha in 2014.
Although Aviwe assisted his father to move the livestock to Soutvleij, he continued to trade in the communal areas around Alice until the end of 2012.
A short but eventful detour
In 2013, he returned to Bloemfontein to assist with a racial integration programme he had helped initiate years before at the university.
While back in Bloemfontein, he began dating Leanne Fourie whom he had met years earlier and they got married the following year. They returned to Somerset East so that Aviwe could return to farm on Soutvleij.
Encouraging father
Back in the Eastern Cape, Aviwe was spending his time between Somerset East and Alice as he continued to trade, but by now he was also milking 20 dairy cows and had joined his father as a partner on Soutvleij.
"My father is very visionary and accommodating,'' says Aviwe.
"I'm privileged to have been taken on as a first-generation partner in whatever my father has done. I haven't had to sit by the sidelines and wait for my time.''
As for Harry, he is confident that Aviwe will be making a significant contribution on Soutvleij.
"I firmly believe that if you extend a 'hand-up' to the youth, provide sufficient resources and create the necessary environment, they will rise to the challenge and thrive. They will not disappoint you,'' he explains.
By late 2014, Aviwe had managed to secure a R250 000 loan from the Humansdorp Co-op/Land Bank and another R240 000 from the Eastern Cape Department of Rural Development and Agrarian Reform.
Using the funds, Aviwe planted 30ha (half of Soutvleij's total maize production in the 2014/2015 season) that was harvested at a yield of 5t/ha in 2015 to contribute to the state's food security programme project in the region.
Earlier this year, Aviwe secured a further R400 000 loan from the Humansdorp Co-op/Land Bank to help him establish 30ha lucerne under irrigation and another R160 000 from the rural development department to assist him in establishing 20ha maize as part of the state's food security programme for the 2015/2016 season.
Aviwe also has a keen interest in establishing an Angora goat flock to make the most of the current boom in mohair prices.
However, he has been unable to secure support from the Mohair Empowerment Trust development initiative for emerging farmers in the region, as no new projects will be undertaken for the next approximately two years, according to him.
Future expansion
Aviwe plans to establish a flock of sheep and a small feedlot of his own on Soutvleij. He also wants to establish between 15ha and 20ha oats under dragline irrigation along the Fish River for lambing ewes.
He is determined to ensure that Soutvleij becomes a commercial success by utilising significant funding and financing opportunities in both the private sector (commercial banks) and public sector (RECAP initiatives aimed at supporting PLAS land reform farms).
"They want proven cases,'' he says.
Certainly, Aviwe is out to prove that his family's is a success story.
Phone Aviwe Gxotiwe on 076 217 2921.