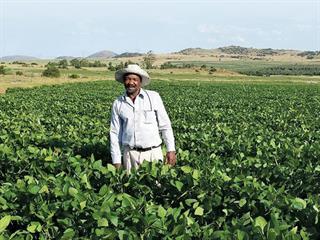 Johannes Simelane (66), a farmer from Balfour in Mpumalanga, epitomises the spirit of ubuntu, which says, 'I am because we are'. Every so often he takes time off from his busy schedule to give back to the Balfour community through development initiatives aimed at uplifting small-scale farmers. He does this through sharing his agricultural skills, knowledge and expertise gathered from the 38 years he worked for the late Fanie Cronjé, who ran a successful mixed farming operation in Balfour.
Empowering the youth
Johannes is involved in a youth organisation called Masisukume (loosely translated as 'let's stand up'). This focuses on fighting hunger and unemployment through farming vegetables that are sold to the community.The organisation has 0,8ha of land on which it plants vegetables to sell to the community.
"I help them with pretty much everything, from cultivating the soil and planting, to giving them inputs such as fertilisers, and helping with harvesting," he says.
Mentoring new farmers
Balfour resident Mpume Mngomezulu manages her mother Beauty Skhosana's farm, Uthembekile Farming CC. "Johannes helps us a lot at the farm," Mpume told Farmer's Weekly. "He is more like our mentor. He's always ready and willing to share his skills and expertise on anything that has to do with farming. We are happy to have someone like him."
Beauty (71) was named the overall winner of the Department of Agriculture, Forestry and Fisheries' Female Entrepreneur of the Year awards for 2014, at a ceremony in Mbombela last year. She grows soya beans, sweet beans, sunflower and maize, and raises Nguni cattle. Johannes says he is happy to be an agent of change in his community, and speaks fondly of his previous employer, whom he worked for for almost four decades.
"Fanie taught me everything I needed to know about agriculture. I will forever be grateful to him. You will remember that it was completely against the law for black people to own land," says Johannes, who now runs his own mixed farming operation, Mpembe Farming CC, on 613ha in Balfour.
"I was promoted to the position of farm manager and was in charge of about 50 workers who reported to me. They [the Cronjé family] really entrusted me with their farm," says Johannes.
Fanie passed away in 2002, and Johannes went to farm with the Sizanani Communal Property Association (CPA), of which Fanie was a member, when its application for a 1 400ha farm in Balfour was approved by the provincial department of rural development and land reform (DRDLR).
"I managed the CPA for three years, sharing all my skills and expertise with my fellow members. However, cracks and factions soon developed within the structure and I opted out because I didn't want to be party to infighting," explains Johannes, who applied to the DRDLR for his own farm in 2005.
"My application was approved in 2008 and I have not looked back since," he says.
He farms a herd of 165 beef cattle, 233 Merino ewes and a few goats and pigs. Of the 613ha farm, 100ha are planted to maize, 40ha to sorghum, and 42ha to sugar beans. The rest is used for grazing.
"I'm doing this because it's in my nature to help others," says Johannes of his involvement in the community. "I want to uplift others so that they can also be self-sufficient, lacking nothing."
Phone Johannes Simelane on 072 980 2185.