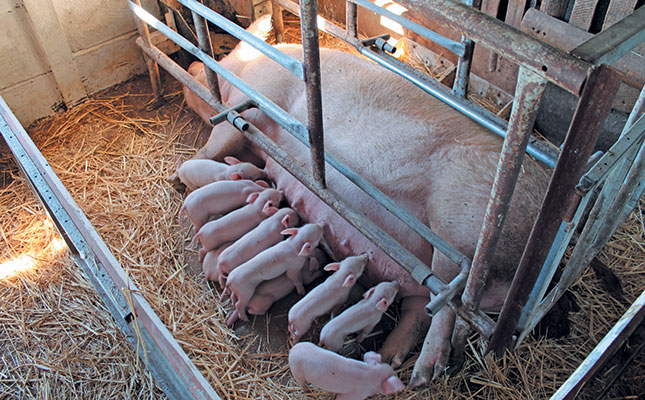 Speaking at the Women in Agric/Agbiz Summit 2016, Kgadi Senyatsi, project manager of the SA Pork Producers' Organisation (SAPPO), urged small-scale farmers to take advantage of the opportunities offered by SAPPO.
What is the scope of the pork industry in South Africa?
It's very small, with 243 registered commercial farmers owning 110 400 sows. The total number of small farmers is not known, but estimated to be between 1 500 and 3 000. They own an estimated 16 000 sows, with an average of between five and 50 sow units. The South African pork industry produces less than 0,5% of the world's total pork output, and slaughters approximately 2,8 million pigs per annum. There are only nine stud breeders.
Is there potential for growth in the industry? And if so, what are the opportunities?
Globally, pork is considered the number one protein source. It's affordable and competes well with other preferred meat types. This offers an opportunity for South Africa to increase market share in the commodity. In addition, changing mobility, which supports consumption, offers an opportunity for growth.
This conference focuses on women in agriculture. What's the participation of women in the pig farming industry?
In terms of ownership, it's very low – fewer than 1% of total producers. However, the participation of women in the labour force is highly visible, especially in farrowing and weaner houses. This is believed to be due to women's natural maternal instincts. Although
the industry is dominated by men, it encourages and guides women who are interested in becoming pig farmers.
What issues do women face in the industry? Are the challenges different from those of men?
The main difficulties faced by all pig farmers are high feed price and low output price. The major challenges faced by small-scale farmers in particular are a lack of start-up capital that will enable them to set up a viable unit.
Due to the high infrastructure costs, small farmers are unable to finance housing structures that meet the requirements of the pigs at various stages. They are often forced to close their business within a year or two of operation as their units are too small to be sustainable.
The minimum size for a commercial unit is considered to be 250 sows. This requires considerable capital, which the majority of farmers cannot afford.
Lack of knowledge is also regarded as a factor that leads to failure. Many farmers operate without acquiring proper knowledge.
Generally, issues faced by female pig farmers are similar to those faced by their male counterparts.
How can farmers avoid failing in the industry?
The profitability of each farm is based on the amount of meat sold per sow per year, the feed conversion ratio, and good stockmanship. Farmers are advised to follow the seven golden rules to ensure maximum production.
Biosecurity: Put together a combination of measures to prevent entry of diseases on the farm and ensure a healthy herd.
Market: Identify and secure a market, and understand the basic principles of marketing.
Breeding: Use superior genetic material to ensure maximum production.
Housing: Understand basic housing principles. Housing requirements differ according to production stages. Ensure that the housing protects the pigs from extreme temperatures, so that production and performance are not negatively affected.
Feeding: Pigs need feed for both production and reproduction. Their nutritional requirements also differ from one production stage to another. Ensure that the pigs receive enough good quality feed for growth, reproduction and production.
Health: A healthy pig is a productive pig. It's crucial to understand the type and importance of vaccines used. Familiarise yourself with the basic vaccination programme to be followed. Prevention is better than cure: it's always cheaper to vaccinate than to treat.
Welfare: Pigs must be free from thirst, hunger and pain at all times. Where can farmers get assistance?SAPPO provides farmers with the following:
Where can farmers get assistance?
SAPPO provides farmers with the following:
A generic business plan;
Training of prospective and existing pig farmers;
Mentorship;
Coordinating study groups and farmers' days to disseminate technical information;
Technical advice through farm visits;
Facilitate and advise on production inputs and market linkages.
The organisation believes that commercial pork producers should assist developing pig farmers become sustainable producers, as this is an intensive and highly specialised form of farming. SAPPO's Portfolio Committee for Emerging Farmers is tasked to coordinate and manage emerging farmers' projects countrywide.
SAPPO's programme for new producers focuses mainly on training, which takes place at developing pig units, at farmers' days and by means of study groups among developing farmers. SAPPO wants to ensure that these farmers develop and eventually make a meaningful contribution towards commercial and sustainable pork production in South Africa.
Farmers who are on the brink of becoming commercial producers receive intensive mentorship, which usually takes place at pig units. Those already farming commercially receive regular and more focused attention. Provincial pig veterinarians, who keep a close watch on the disease status of the units, visit them regularly.
The number of successful developing projects in North West, KwaZulu-Natal, the Western Cape, the Eastern Cape and Gauteng proves that some developing pig farmers are already crossing the bridge from simply making a living from pigs, to becoming commercially successful.
Tell us about the SA Pork Baynesfield Academy
This is a training service provider covering accredited training in pig production. The facility is an Article 21 company jointly run by SAPPO and the Baynesfield Estate. It was officially opened on 15 June 2012.
The SA Pork Baynesfield Academy offers hands-on practical training in pig production. It is aimed at developing pig farmers, aspiring developing farmers, extension officials, animal health technicians or any other individual interested in pig farming. The unit standards offered by the academy are in line with AgriSETA accreditation, within the National Certificate: Animal Production – NQF level 1.
Phone SAPPO on 012 361 3920 or email [email protected] Phone Kgadi Senyatsi on 012 361 3920 or email [email protected]
This article was originally published in the 17 August 2012 issue of Farmers Weekly.