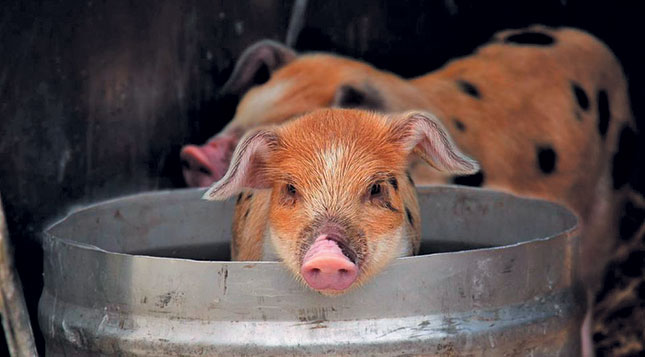 Last article, I suggested starting off with six weaners. Each pig requires about 4m² of pen space, so total pen area would be 24m² (6 x 4m²). Of this, 8m² should be set aside as the sleeping space. Here are the basic requirements:
Here are the basic requirements:
 The area must remain dry and have good ventilation, but no excessive draughts. The ideal temperature range for weaners between 17°C and 25°C. Avoid a temperature below 15°C and above 30°C.
Build a raised base about 10cm thick, preferably concrete and covered with an easily moved slatted wood covering, or modified wooden pallets with the gaps between planks no wider than about 1cm.
Fit a sloping corrugated tin or, even better, a stronger IBR plate roof about 1,5m from the base. This will enable water to run off away from the pen area. Cover the sides and back of the sleeping area with zinc sheets. Some farmers use double sheet walls with a 15cm gap filled with straw or sawdust for better insulation. Alternatively, you could use scaffold planks, which may be warmer and cheaper to construct.
Build the entrance facing away from prevailing wind and rain that can be partially closed in severe weather. It should allow easy access for placing bedding material such as straw or sawdust. The bedding should be about 20cm deep, so that the pigs can burrow into it and it must be replaced when dirty or wet.
Apply these guidelines even if you construct holding pens within an old shed or building, as they reduce temperature variations. Differing requirements Pigs of different sexes and ages require different environmental temperatures to thrive (see Table 2). So it's a good idea to place shade netting above the pen in summer and pack straw bales on the sleeping area roof in winter, when corrugated iron can become very cold.
A cheaper, easier option
Portable sleeping enclosures cost about 60% less than more permanent housing structures. Moreover, you can move the structure to a shaded area in summer and a warmer area in winter.