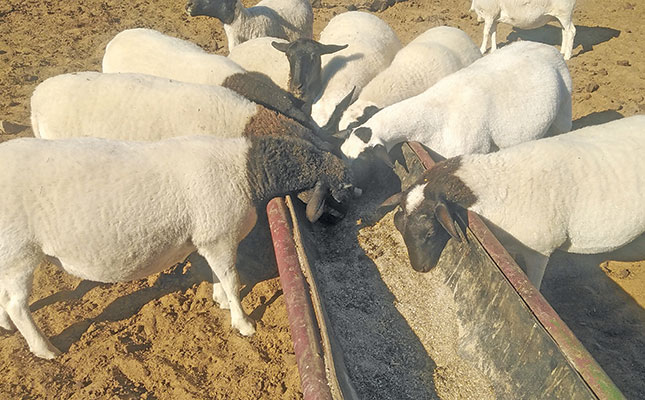 Thapelo Kgopodithate is the manager at Boomplaas Farm in Van Zylsrus village
near Kuruman in the Northern Cape.
The farm is owned by his father, Oratile, and the family run sheep, cattle and goats. His father farmed on communal land for 31 years before receiving his current farm from government in 2012.
Kgopodithate completed a degree in human resources management at Damelin College in Pretoria in 2009. Unable to find employment close to home, he moved to Cape Town, where he ended up as a general worker at a large steel producer.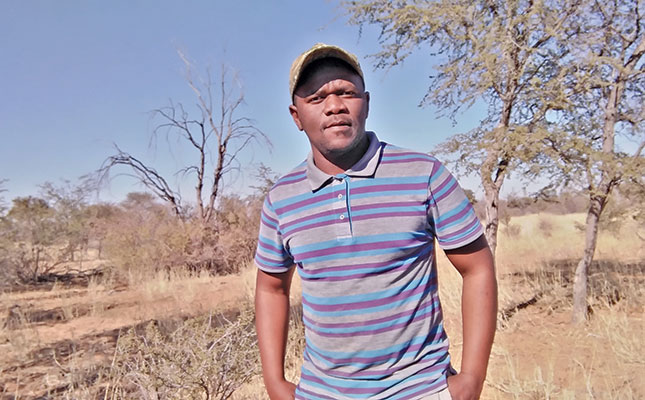 In the meantime, however, his father was struggling to manage the farm on his own,
so he asked Kgopodithate to return home to assist him as farm manager. Kgopodithate became fully involved in the business, and says that the more he learnt about farming, the more he enjoyed it.
Drought as inspiration
The Northern Cape is currently in the grip of a prolonged, highly destructive drought. Although farmers in this part of the country are no strangers to long droughts, coupled with temperatures that often rise to 40˚C, the current drought is one of the worst on record.
In 2016 already, the Kgopodithates were facing ruin due to the financial strain brought on by the drought, and many other farmers in the province faced the same fate. It was his family's struggle to keep their farm going that led Kgopodithate to start an unusual stokvel.
Named the Makawana (Tswana for 'young people') Farmers' Stokvel, the initiative brought together farmers struggling with similar challenges.
Its members are all younger than 35, and at the time of writing there were 23 members, all from villages in the John Taolo Gaetsewe District in Kuruman.
The group's overarching goal is to accumulate capital that can be invested for the benefit of all its members. Each member saves money over a 12-month period and the group then decides how the money will be invested. This can be in buying livestock, feed or equipment.
"Like other investment stokvels, ours promotes savings through bulk purchases of goods, such as farming inputs. Buying in bulk enables us to pay lower prices, which means we save a lot of money," says Kgopodithate.
"The group also provides young farmers with a platform where they can learn from one another, strive towards excellence in farming, and eventually grow into commercial farmers."
The model, which resembles a co-operative approach to farming, can be followed by other emerging farmers to help them develop their businesses. But, stresses Kgopodithate, there must be a solid management strategy in place from the start.
''Our business strategy has taught us the importance of sharing of ideas. The little knowledge that each one of us brings to the table adds up to a lot of experience when you start to combine your forces," he says.
All decisions about how money should be spent are made as a collective; if any differences of opinion emerge, the matter is left to the executive committee to solve.
Sheep-farming initiative
Earlier this year, the Makawana Farmers' Stokvel established a sheep farming business. All the members were already farming sheep in their individual, mixed-farming operations, but through this collective initiative, they hoped to breed more sheep, faster.
"We bought 50 ewes, mostly Dorper, from an auction to begin with, but the numbers have dropped to 32 ewes and 16 lambs due to a high mortality rate," says Kgopodithate.
He admits that this was partly due to mismanagement. "We didn't take proper precautions and members didn't get involved in management and in helping the person who was put in charge of looking after the sheep."
The sheep, he adds, were kept on communal land, competing for grazing with livestock from other farmers. The flock was also affected by diseases such as pulpy kidney disease and pasteurellosis, as no proper animal health plan had been put in place.
Shared responsibility
To resolve the issue, the group decided to divide the sheep among the members. Each member took two or three sheep, which were then run with their own flocks. The mortality rate has since decreased, as "everyone has a shared responsibility", says Kgopodithate.
Each member now has to provide a monthly report detailing how the sheep that belong to the collective are progressing. The stokvel's administration team combines the data and sends an overall report to the members.
All the farmers are required to achieve a carcass weight of 40kg, but are free to use their own breeding and feeding programmes. Some farmers use natural grazing, but for those who have to buy in feed for the sheep, an amount of R200 is deducted from their monthly stokvel contribution of R500.
The stokvel buys only ewes and the farmers have to use their own rams for breeding. The animals are marked when born to link them to the stokvel's database.
A major challenge for sheep farmers in this part of the country is predation. One of the long-term goals that the stokvel is working towards is to acquire fencing to ensure proper control. It has also applied to government for access to about 1 000ha of land, which the members want to use to increase their sheep farming enterprise.
Email the Makawana Farmers' Stokvel at [email protected].