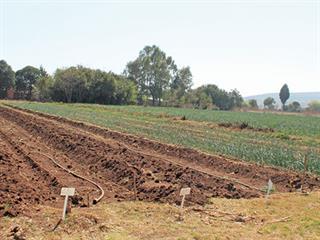 Passion, dedication and a willingness to learn. These are the qualities that will see anyone farming successfully, says Magapa Phaweni (50), a single parent of two children, and CEO of Magapa Mbeva Investment Group. With her 21ha, a staff of 26 full-time employees and several seasonal workers, Magapa records an annual turnover of R7,5 million, but hopes to triple this in the next five years.
Her father believed education was a springboard for success, regardless of gender.
"I was good in mathematics and was told I should do science," she says, who walked barefoot to a school in Mabopane, Pretoria. She obtained a BSc in microbiology from the University of the North, and then entered the business world, beginning as an operations manager at SAB. She went on to found her own group of companies, which is involved in property development and rental.
Potential of organic farming
On a visit to China, and ever on the lookout for new business opportunities, Magapa realised that there was a huge demand in that country for South African organic produce. Back home, she began looking for a farm with the potential to supply the Asian market. It was not long before she found exactly that: Wensleydale Farms, an organic fruit and vegetable farm in Centurion, Gauteng, owned by Sue Jackson.
Sue and her late husband Tim had run the farm for 25 years, supplying produce to large retail stores such as Pick n Pay, Checkers and others. After Tim's death, Sue had continued for another three years before deciding it was time to sell. But she was not prepared to let it go to someone who did not believe in Tim's vision for the business. The two women clicked immediately. "I could see that Magapa would keep the true nature of Wensleydale intact – that of a certified purely organic farm," says Sue.
Magapa and Sue reached an agreement whereby Sue would sell the farm outright but stay on as a consultant, and the business changed hands in 2011. Magapa would not reveal to Farmer's Weekly how much she paid for Wensleydale or how much she had to borrow. But she does say that South Africa's financial institutions are not keen to support high-risk businesses such as agriculture, and challenges Land Bank to do more to finance emerging farmers.
"We export about 750kg of organic horticulture products to Dubai every week," says Magapa, adding that the farm was first certified organic in 2001.
"We grow seasonal vegetables and pre-pack in our fresh produce packing shed for retail." Other crops are sold in bulk to shops, wholesalers and through the Wensleydale Organic Vegetable Box Scheme. With the latter, customers can order a box of mixed organic fruit and vegetables. Five standard sizes are available, from the Mini Box comprising eight half portions to the Jumbo Box with 16 varieties.Orders are placed through the farm's website and the boxes are delivered to customers in the area weekly or as and when requested.
The vegetables are grown on the farm exclusively under borehole irrigation.
"Everything on the farm is organic," says Magapa with a smile.
Stella de Chalain (left) is the unit manager for dry goods and crop production. Here, with Magapa, she shows off some of the packaged items sold by Wensleydale Farms.
Look before you leap
Having the courage to try something different and 'just doing it' cannot be underestimated, stresses Magapa. "Many people don't ever develop their ideas because they never get started. This may be due to lack of drive, lack of confidence or just not knowing how to start."
But success in any new enterprise is possible, "provided you do your research first, plan carefully and are prepared to put in the hard work required", she adds. The first steps involve choosing the right idea or business for yourself and then conducting sufficient research to ensure that your idea or the business you wish to invest in is feasible. Many horticultural crops, for example, require intensive management and a significant investment in time and energy, says Magapa.
"It's important to be aware of your motivation for establishing a horticultural enterprise," she cautions. If one's primary motivation is to make money, potential business operators need to be aware that it may take several years for an enterprise to start producing a profit and that some crops will require significant capital up-front to install infrastructure.
Looking ahead
Urban organic farming creates opportunities for rural farmers, and Wensleydale works closely with a network of rural outgrowers, offering training to support and upskill them. Magapa also plans to open a processing venture. "We're looking for certified organic products," she says.
Magapa expects that her anticipated growth in turnover will come from processing and producing baby foods using traditional techniques. She emphasises the need to be aware of market trends and prices.
Innovative ways
The small size of the business means that it has to find innovative ways to make the highest possible return from what they have. Apart from retailing its own produce, Wensleydale has sought to add value by packaging and having an online ordering and delivery service, as already described. In addition to fruit and vegetables, customers can buy soup mixes, a range of cordials and organic softdrinks, as well as organic body care products such as bath oil.
Magapa says the farm is set to maximise production and increase profits, but is constrained by dolomite stones in the land. "To utilise the entire farm land, we need huge capital investment to remove some of the stones," she says. Magapa adds that she has noticed of late that more and more people have started their own vegetable gardens. "There is a lot of happiness in raising your own vegetables," she says.
Phone Magapa Phaweni on 083 296 5236. Visit www.wensleydale.co.za.