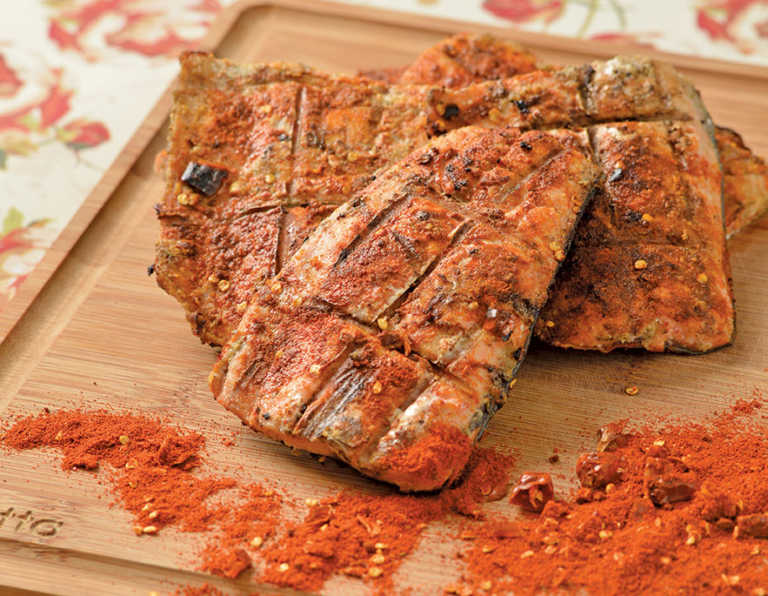 First, the marinade. There's no heavy-lifting involved – just obedience to the 50:50 ratio of the oil and wine. Mix greater quantities if the depth of the dish requires it. Next, the rub. Packaged Cajun mix is just fine.
If you prefer to be fully in control of a whole gustatory event, combine all the ingredients listed alongside and grind them to a fine powder in a spice grinder. Any excess will survive for a couple of weeks in a tightly sealed glass jar.
Now for the fish. Needless to say, it must be as fresh as possible. Get the seller to cut the Cape Salmon into uniform 20mm-thick slices. As with beef steak, thick is the only way to go.
Using your hands, rub liberal quantities of the Cajun spice combination over all surfaces of the raw fish steaks.
Then place them in a shallow glass dish. Pour in sufficient marinade to submerge the fish, then cover the dish and its contents with cling wrap. Stick this in the fridge and leave overnight.
Braai time. Derek uses a steel truck steel on bricks as his braai. He starts the fire with twigs, moving onto large fragments of dried wood.
Once alight, he adds a layer of charcoal and waits for the flames to abate and the coals to glow. Fish demands a hot, fast, flame-free fire for the best braai outcome.
Arrange the seasoned, marinaded steaks on a double-sided braai grill and place this over the coals.
Since there are so many variables, use your discretion to decide the cooking time. Ideally, cook for a couple of minutes per side, turning the grill three times during the process.
Baste the fish after each turning, taking care to lightly drench the cooking surface but without threatening the fire.
Once cooked, let the fish stand for a few minutes before serving. Many vegetables go well with this tangy, spicy, red-hot fish experience, but few can equal sweet potato chips roasted in the oven.
What a blast!