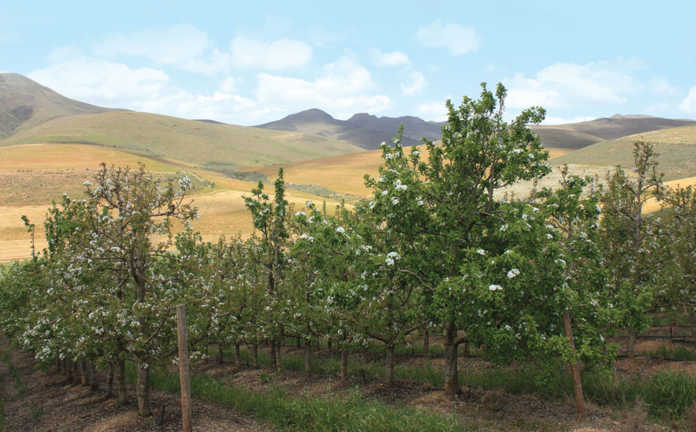 It is still early morning when André Cloete returns to the farmhouse after checking that work is under way in the new pear orchard. He then has a meeting with a technical advisor from the Two-a-Day Group. Only after this can André sit down for his first cup of tea of the day.
Earlier this year, the fruit industry handed André its Novice Award, given annually to a new entrant in the deciduous fruit industry who has made an immediate difference and is regarded as a role model for his peers.
André, 47, who farms with apples, pears and sheep on the farm Klein Ezeljacht close to Greyton in the Overberg area, says he appreciates the recognition.
"It's good to know that what I am doing is not going unnoticed," he says.
There is little time for celebration, however, because, like most farmers, he is a busy man facing many challenges.
Life on the farm
André may be a new farmer, but he certainly isn't new to farming.
"I grew up on a farm in the Grabouw area where my mother was a farm worker and my father a technician and builder on the farm. I think I was six when I told my mom I wanted to be a farmer," he remembers.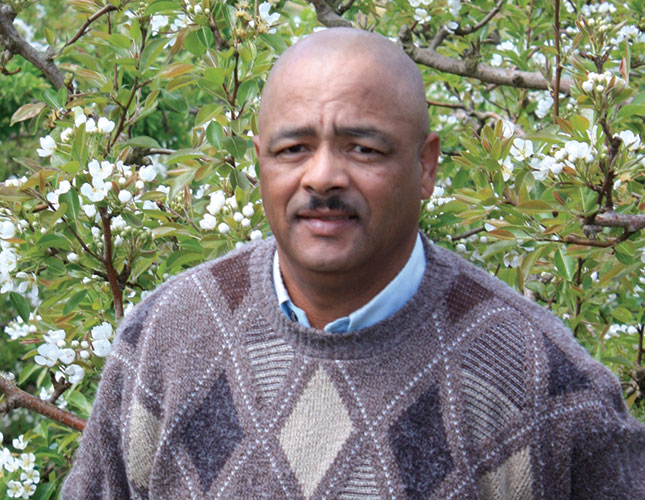 André was the only child in his family – there were eight in all – to receive a tertiary education.
"I was determined to rise above my circumstances, which is why I wanted to study further," he says.
"After attending Kromme Rhee Agricultural College, I studied irrigation design at Cape Technikon. I then worked in Elgin, first as an irrigation specialist and later as farm manager until 2007."
At that point, André heard about the new opportunities offered by government through its Proactive Land Acquisition Strategy (PLAS).
"I was never interested in the LRAD (Land Redistribution for Agricultural Development) grants because this programme was designed to benefit groups of people, and I wanted to farm on my own and for myself," he explains.
"That is why, when I heard about the PLAS programme, I almost immediately started looking for an appropriate farm and drew up a business plan."
Frustrations
André found the farm he was looking for – Klein Ezeljacht – and his business plan was approved by the local branch of the then Department of Land Affairs.
Government then purchased the property for him to lease and Capespan became the mentor, buying all the loose goods, including about 800 sheep.
To manage the farm, a company called Altius Trading was established under the auspices of Capespan, and André was appointed general manager. This effectively meant he was in charge of the farm.
Capespan rented the property from the government for one year, after which André started renting it.
Since then, the story has become even more complicated. The government is currently in the process of buying Altius Trading and the Two-a-Day Group is to become the strategic partner in the business. André will continue as general manager of the company and rent the farm from the government.
"It is even more complex than it sounds," he says. "There are so many hoops that have to be jumped through, not to mention the mounds of paperwork and the long bureaucratic process that has to be followed when applying for land and support from the state.
"And it never stops. Sometimes I spend more time filling in forms than I do farming. The process really needs to be streamlined."
Uncertain future
André has been unable to secure a long-term lease agreement with government and says there is no indication that he will be able to buy the land from the state at some point in the future.
He is receiving some support from the state, thanks to the Comprehensive Agricultural Support Programme, but says he cannot help feeling that government is forcing him to become dependent on it.
"I really want to assist and share my experience with my peers, but I'm too busy with my own problems," he says. "I'm also reluctant to invest too much in the farm because the future is uncertain. The government can decide not to renew my lease, or it can insist on accommodating more people on this land. This is no way to farm.
"Every farmer knows that to be successful you have to be able to make long-term plans," he contends.
Fruit production
Despite his frustrations, André is happy to be doing what he loves. And if production figures are anything to go by, he is doing an excellent job.
The 871ha farm has 22ha of pear and apple trees currently in production, and André is in the process of planting 5ha to pears and 1ha to apples. His main pear varieties are Forelle and Packham's Triumph, while his apples include Golden Delicious and Royal Gala.
The pear and apple orchards are between 12 and 13 years old and are in very good condition, says André. "I don't think the trees have even reached their full bearing potential yet," he says.
"At the moment we pick 70t/ha of Golden Delicious with an 88% pack-out, 46t/ha of Royal Gala with a 68% pack-out, 32t/ha of Forelle with a 60% pack-out and 50t/ha of Packham's with a 51% pack-out. The pack-out rate is mostly above company averages."
Over 60% of Andre's fruit is exported, while the rest is sold locally or for juice-making. All the fruit is marketed by Tru-Cape and the Two-a-Day Group.
Diversification into livestock
Only a small part of the farm is suitable for fruit, and water restrictions limit the area of land that can be planted. For these reasons, and also to reduce risk, André has diversified and now runs a flock of 750 SA Mutton Merino ewes on 260ha of dryland grazing.
About 100ha of this area is planted to oats, wheat or barley annually and about 10ha of lucerne is under irrigation. These crops are harvested to make silage for the sheep during summer.
The farm also has a 590ha fynbos conservation area.
"We achieve a 85% lambing rate on average. The ewes lamb once a year and we replace 100 to 150 ewes annually. I can manage the sheep much more effectively, and I'd like to start stud breeding, but at the moment there are just too many uncertainties," he says.
"Because I'm only leasing the farm, with no clear indication of what the future holds, I'm hesitant to start a long-term, expensive project such as stud breeding."
Thinking like a commercial farmer
"If you think like an emerging farmer, you will always remain an emerging farmer. You have to start thinking like a commercial farmer. And the best way to get into that mindset is to meet and speak with other commercial farmers.
That is why it's important to become involved with organised agriculture," explains André, who is vice-chairperson of the Caledon North Farmers' Association. "I'd like to see government, emerging farmers and the commercial sector work as one. This is the only way we will all move forward," he says.
"My advice to new farmers is to work hard and get involved with agricultural organisations and commodity groups. They offer the expertise and support you need to progress to commercial farming status.
"When it comes to the government, there is always a lot to complain about, but I think it will be better if we just take government's hand. It probably needs our help more than we need its help."
Contact André Cloete on 082 264 9640 or at [email protected].