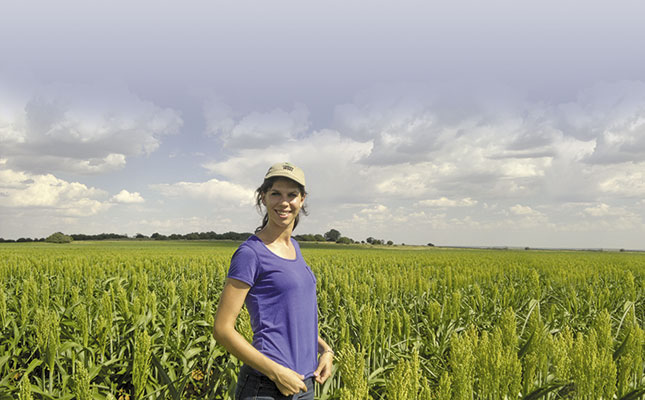 What made you choose agriculture?
I have to start with a confession – I didn't choose agriculture, agriculture chose me. In my first year at the University of the Free State in 2008 I was studying medical microbiology. Then a short piece in a botany class on plant disease and insects caught my attention. I was hooked – and switched to a BSc Agriculture. Wilmarie Kriel was the first lecturer I had in plant pathology and her passion was infectious.
Currently, I'm finishing my master's dissertation in plant pathology, focusing on sorghum grain mould and the potential for creating a forecasting model of mycotoxin risk areas in South Africa.
It often seems as if young people have lost their connection with the land and primary agricultural production. Do you agree?
Yes, I think that more young people are becoming disconnected with agriculture because we live in an information- and technology-driven society. As a young person, I enjoy the benefits of technology and believe that we could, and should, be using it to our advantage in the agriculture sector. The disconnection to primary agricultural production may not be so great in tertiary education, though. Many young scientists doing postgraduate research in plant sciences, agronomy, biotechnology, food sciences and other disciplines are involved indirectly in primary agricultural production – and sometimes field work allows them direct involvement.
In your opinion, what are the main obstacles keeping young people from joining the agriculture sector?
First is the negative stigma around agriculture. In my personal studies, I've been humbled by my fieldwork, from the start of the planting season to harvesting our sorghum, which is sometimes done by hand. Agriculture is not always a glamorous career but it's a very necessary and rewarding one.
The second obstacle is a lack of awareness of the opportunities in primary agricultural production and high-impact research. At the Youth Ag Summit in Canada last year, I was introduced to the 4-H Club. It focuses on youth aged eight to 18 and has a 'curriculum' which covers science, healthy living and agricultural education. The 4-H Club currently has six million members in 50 countries.
If South Africa had such an organisation, perhaps more youth would be interested in the agriculture sector. Creating awareness is ultimately in the hands of experienced people currently involved in agriculture. They should mentor the youth and invest in them, as this is a key to the success of our agriculture industry.
What opportunities does the sector afford young people?
Agriculture allows young minds to take part in multiple work environments, from the office right through to the field. It can afford young people entrepreneurial opportunities, in effect creating jobs for others while allowing the entrepreneur to be his or her own boss. Careers in agriculture go beyond primary agriculture, from marketing and accounting to law and teaching.
Being involved in agriculture, also affords young people the opportunity to do postgraduate studies and research. Due to the globalisation of agriculture, some of these study and career opportunities may involve travels nationally and internationally. Agriculture links individuals beyond their immediate fields, and connects them to the benefits of social responsibility.
If you're involved in the agriculture industry, you wouldn't call it an industry, but a community. Perhaps a challenge that could be looked into is that of the need to change the way we 'do' agriculture. We have to produce more with less in the future and this niche is one that the youth could fill with guidance from mentors. We can't change people's minds, but we can teach new minds – and that's why the youth are important!
You've launched an organisation involving young people. Please tell us briefly about it. 
At the Youth Ag Summit, each of the delegates had to come up with three 'action items' to implement on returning home. One of mine was to create an organisation to 'educate, empower and develop'. And we're actively trying to inform the youth at my university and in the community about food insecurity and the importance of agriculture.
We only started this year, so we have just under 30 members. But we're striving towards our vision of increasing sustainable access to nutrient-dense food for women and children in order to alleviate hunger.
What are your long-term goals and objectives?
One aim is to expand our organisation and raise awareness about food insecurity. From 16 to 19 October this year, our organisation and the University of the Free State hope to host a food insecurity summit. Delegates will be students registered at tertiary institutions across South Africa and learners from schools in and around Bloemfontein. The summit will also address related issues, such as overpopulation, gender roles in farming and the advantages of biotechnology in agriculture.
Personally, I'd love it if we could go beyond the confines of the university, perhaps to develop a mentorship programme and raise awareness of food insecurity in schools and an appreciation of agriculture and volunteering in our community.
If you were the new minister of agriculture, what would you do to actively accommodate the youth in the sector?
As a leader in agriculture, I think I would try and include agricultural studies in schools – for example, the history of agriculture around the world and the challenges and opportunities in agriculture. I would encourage the youth's involvement in a 4-H club in South Africa. I know there are currently similar programmes in the Eastern Cape and Limpopo, but they're not of the same calibre as their global counterparts.
I would also encourage the corporate sectors that are currently involved in youth development programmes such as career fairs and internships. To bring out leadership qualities in someone takes passion in a particular field and someone to believe in them. This is where I'm fortunate to be a passionate plant pathologist and also to have mentors who believe in me.
Phone Lisa Coetzee on 079 270 9691 or email [email protected].