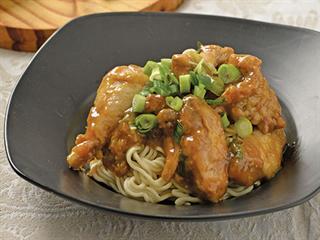 To make this meal, you will need:
A supermarket broiler fowl 1,5kg or a bit bigger

6 spring onions

150mm fresh ginger root

90ml Old Brown sherry

3 tablespoons brown sugar

5 tablespoons dark soy sauce

1 tablespoon Hoisin sauce (or sweet chutney)

2 tablespoons Oyster sauce

Half-litre chicken stock

Maizena on demand
For the stock
2 chicken backs, 4 wings

2 cloves of garlic

2 onions

75mm fresh ginger root

1 or 2 tablespoons of canola oil

1l water
Believe me – you need a wok and a Chinese stainless steel cleaver. Neither will break the bank and the addition to your kitchen tool kit will be efficient and ongoing. In extremis, you can substitute the wok for a skottel, but the bottom line is this: a wok is a multi-use cooking vessel made of stainless rather than mild steel. A skottel usually has built-in wooden handles – a bad idea.
They could smoulder and perhaps even ignite in the thermonuclear blast of your gas burner. A pair of vice-grips clamped onto the stainless steel handles of the wok are all you need to avoid burning your hands. We start with the stock. Pour the canola oil into a 2l saucepan, bring up the heat and lightly sweat the peeled garlic, onions and finely-chopped fresh ginger. After five minutes, add the chicken backs, wings and water, and let it simmer for an hour. Pour through a sieve, save the stock and dump the solids.
On a heavy-duty chopping board, use the cleaver to cut the entire fowl into bite-sized pieces, right through the bone. The incised bones will allow marrow to leach into the meal, adding to the flavour. Grate the ginger and reserve it.
Into a bowl, decant 500ml chicken stock, then add the sugar, dark soy sauce, Hoisin sauce and Oyster sauce, plus the Old Brown sherry. Mix and reserve.
Pour six to eight tablespoons of canola oil into the wok, rev up the gas and allow it to heat up. Tip in the grated ginger and while keeping a sharp eye on the second hand of your watch, stir-fry it for 90 seconds. Add the chicken and stir-fry with the ginger for four minutes. Remember to keep the mass moving to avoid burning.
Pour in the contents of the mixing bowl and continue to stir until the sauce thickens. Add a tablespoon of Maizena combined with a little water and stir well into the contents of the wok. As soon as the sauce is thick and glazed in appearance, kill the flame. Sprinkle the chopped spring onions into the wok and stir well. Serve at once with rice or noodles.