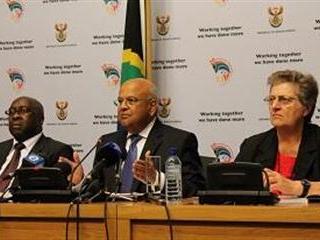 Over R7 billion will be spent on conditional grants to provinces to support about 435 000 subsistence and 54 500 smallholder farmers and to improve extension services.
Gordhan said that nearly 500 000 subsistence and smallholder farmers were to receive training and financial support.
Gordhan referred to government's new flagship food security programme, Fetsa Tlala, saying that this initiative would "boost domestic food production and reduce reliance on imports."
He said Fetsa Tlala aims to bring an additional one million hectares into cultivation by 2019 and create 300 000 jobs.
"Meanwhile, the Comprehensive Agriculture Support Programme (CASP) grant, which receives R1,6 billion per year over the medium term, aims to increase farm output, especially for the beneficiaries of land reform," said Gordhan.
According to the Estimates of National Expenditure, there was no dedicated budget for Fetsa Tlala. Instead 70% of the allocation for CASP's infrastructure would be reprioritised to support Fetsa Tlala. This would amount to R1,7 billion over the medium term.
The total allocation to CASP amounted to around R1,4 billion/year over the medium term. This means that, over the next three years, more than a third of the entire budget for the comprehensive agricultural support programme would instead have been spent of Fetsa Tlala.
Land reform and restitution
The Restitution of Land Rights Amendment Bill was passed by the National Assembly at the end of February paving the way for the land claims process to be reopened. However, judging by the amount of funds allocated by Treasury for land reform and restitution, government was in no rush to settle new and existing claims.
According to the Department of Rural Development and Land Reform (DRDLR) it expected around 397 000 additional valid claims to be filed when the process was re-opened. This cost to settle these was estimated to amount to between R129 billion and R179 billion. According to Gordhan, government was planning to spend R8,7 billion on land restitution claims over the next three years.
The Treasury's director-general Lungisa Fuzile said more money would only be made available when the DRDLR proved it could successfully increase its spending rate.
Click on the link to read the full Budget Speech 2014