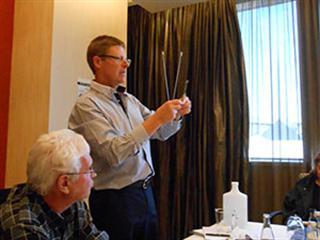 SAPA recently said the local poultry industry was in "distress" due to increasing imports of cheap chicken, mainly from Brazil and the European Union. In March SAPA brought an application before the International Trade Administration Commission (ITAC) for tariffs against imported frozen chicken – excluding imports from Europe because of a free trade agreement – which the local industry said was undermining their livelihood.
David Wolpert, CEO of AMIE, said at a media briefing in Sandton today (Thursday) that it was a myth that there had been a "flood of cheap chicken imports" into South Africa over the last few years. At the briefing George Southey, an executive member of AMIE, said that in 2006 chicken imports to SA constituted 10,95% of the total poultry market. By 2012 imports constituted 11,96%.
Over the same time the local chicken production increased from 1,47 million tons per annum to 1,75 million tons per annum.
From 2006 to 2012 chicken consumption in SA increased from 1,65 million tons per year to 1,99 million tons per year. Wolpert said the local industry did not have the capacity to fulfil the growing demand for chicken among SA consumers. Kevin Lovell, SAPA CEO, disputed this and said the local industry had the capacity and the means to supply the market sustainably.
Southey said the problem faced by local producers was that their business model was outdated. "Local producers sell breast meat at the same price than the rest of the bird. You have to extract maximum from benefit from your product," Southey said. Meanwhile, ITAC will hear oral submissions from the opposing sides in the tariff application on 11 June. AMIE has, however, made a High Court application to have some confidential information supplied by SAPA, in its application to ITAC, made available to AMIE. This court application will be heard on 18 June in the North Gauteng High Court in Pretoria.