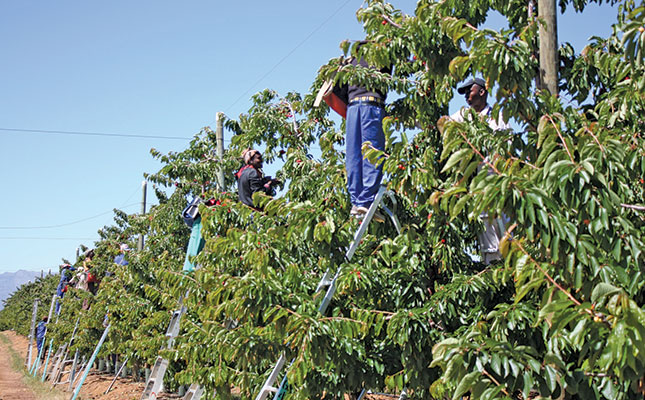 The third quarter of each year is typically not a busy period for agriculture, hence employment figures in the third quarter of 2021 showed an almost 4% decline from the second quarter figures.
The second quarter is traditionally a busy harvesting period for field crops, with many seasonal employment opportunities.
This was according to Wandile Sihlobo, chief economist at Agbiz, responding to the latest figures released by Statistics SA (Stats SA) in its Quarterly Labour Force Survey (QLFS).
According to the survey, South Africa's official unemployment rate was 34,9% in the third quarter of 2021. This was a 0,5-percentage point increase from 34,4% in the second quarter of 2021, and was the highest official unemployment rate for South Africa since the start of the QLFS in 2008.
The largest employment decrease was observed in the trade sector, with 309 000 jobs lost, followed by community and social services, with 210 000 jobs lost. Agriculture lost 32 000 jobs, or 3,8%, during the period, according to the Stats SA statement.
In contrast to the general employment picture, and when viewed on a year-on-year basis, Sihlobo said South Africa's agriculture sector performed exceptionally well in 2021 with excellent production and export volumes for the first three quarters of the year.
"This is also evident in the jobs data. The QLFS numbers showed that in the third quarter of 2021, agricultural employment increased 3% year-on-year to 829 000."
He said this was above the long-term agricultural employment rate of 780 000.
Four provinces underpinned the improvement in agricultural jobs in the third quarter year-on- year, compared with 2020.
In the Western Cape there was a 44% increase, 10% in the Eastern Cape, while the Northern Cape showed a 19% increase, and the Free State a 48% increase.
In the other five provinces there was a decline in agricultural employment in the third quarter compared with the corresponding period last year, Sihlobo said.
He cautioned, however, that the increases in employment figures should be seen in context, as they were from a low base, as a result of the COVID-19-related lockdowns in 2020.
The game, forestry, livestock, and fisheries industries were among the subsectors that registered a notable decline in employment, compared with the third quarter of 2020, he said.
Theo Boshoff, CEO-designate at Agbiz, said these employment figures would have to be carefully monitored, as the shock of the 16,1% increase in the minimum wage in March this year had not yet filtered through the market.
"Farmers are still being cushioned by the excellent year they had, but the picture can change significantly once conditions return to normal, and the wage increases are added to significant input cost increases farmers will have to face this coming year," he said.