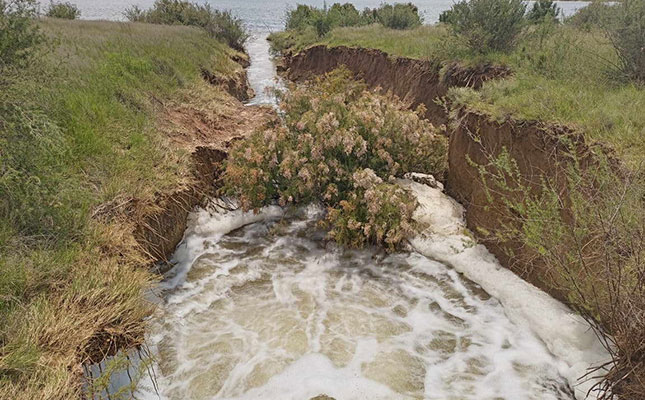 Farmers in the Welkom district are still in the process of assessing the extent of the damage to grain lands and grazing after an evaporation dam belonging to the local Sibanye-Stillwater mine breached its walls at the end of December 2021.
However, one of the affected farmers, Lennox Long, whose farm was situated adjacent to the dam, said it could amount to thousands of hectares.
"It is too early to fully quantify the effect of the spill, but we were severely impacted by the disaster," he said.
He added that the lands and grazing camps on his farm were submerged by water from the dam that was "metres deep". It had been alleged that the Matjhabeng Local Municipality had pumped raw sewage into the dam, which exacerbated the situation, he said.
Affected farmers had to take emergency measures to evacuate livestock from flooded camps as they feared the polluted water had rendered the veld and water dangerous to the animals.
It was also highly likely that the area's drinking water could have been affected, while some of the grain on the lands had been completely covered by the water.
According to a bacteriological report by the University of the Free State's Institute for Groundwater Studies, the total coliform (E. coli) count in the water shortly after the spill stood at 2 420. In terms of the South African national standard for drinking water and the Department of Water and Sanitation's regulations, the E. coli count should not exceed 241.
Igor Scheurkogel, Matjhabeng municipal council member, could not confirm whether the municipality had pumped any sewage into the evaporation dam.
As one of the parties affected by the spill, the Sibanye-Stillwater mining group was currently investigating the matter, which included collecting samples in the area and working with all stakeholders to understand the potential impact, a statement by the company said.
According to the statement, the group had been working with all stakeholders in the area to assess the risks associated with the elevated water levels of the municipal Toronto pan.