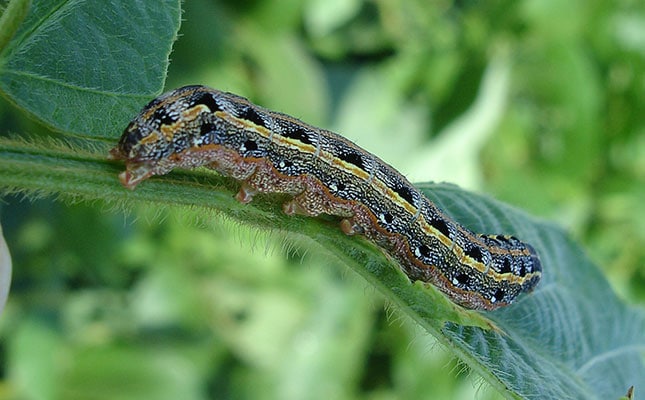 Theo de Jager, president of the Southern African Confederation of Agricultural Unions (SACAU), tweeted that producers who had planted Monsanto's YieldGard II GM maize seed did not report any fall armyworm damage. Monsanto has subsequently confirmed this.
Monsanto has subsequently confirmed this.
Magda du Toit, Monsanto spokesperson, said in a press release that chemical control of the armyworm would only be effective if the larvae were controlled before they reached maize cobs.
"It is therefore important to control the larvae in the early stages of development," Du Toit said.
According to Monsanto's website, the YieldGard maize's protection came from a naturally occurring soil bacterium called Bacillus thuringienisis, or Bt.
"This Bt gene becomes part of the plant itself, where it produces a protein the maize stalk borer can't digest. The protein binds to receptors in the insect stomach, causing a breakdown of the lining. After a few bites, the maize stalk borer stops eating and dies within 72 hours," the website said.
Dr Gerhard Verdoorn, chairperson at Crop Life SA for safety, health and environment, who had been investigating possible solutions for fall armyworm, told Farmer's Weekly that fall armyworms had caused large-scale damage in Malawi, Namibia and South Africa, with some smallholder farms in Polokwane being completely decimated.
In Zambia, producers had been able to control the worm with the use of chemicals, Verdoorn added.
"The active ingredient that we suggest to curb the worm is indoxakarb, emamectin benzoate, lufenuron, Chlorantraniliprole, spinetoram, spinosad, moontlik ook Chlorpyrifos, Benfuracarb, metomiel, malation. No piratoid worked as the species is resistant to it," he said.
Crop Life South Africa was dispersing information bulletins to pesticide suppliers requesting advice on what chemical agents would be useful in the fight against fall armyworms.
Boeta du Toit, executive general manager of Agri North West, told Farmer's Weekly that the Department of Agriculture, Forestry and Fisheries (DAFF) was escalating the emergency registration of pesticides that could combat fall armyworms.
Du Toit added that high dosages of citrus oil, used as wetting agents, were effective to ensure the wetting of maize calyces during pesticide treatment.
The fall armyworm had been detected in Limpopo, the Free State and some regions in North West, including Swartruggens, Skuinsdrift, Zeerust, Mafikeng, and Lichtenburg, Du Toit said.
Registered products
The latest updated list of registered products (supplied by Grain SA) for the Fall Armyworm is as follows:
Farmers who had detected and were combatting fall armyworms were encouraged to provide DAFF with daily notifications and/or updates as this information could assist the department's Plant Pest Action Group's planning.
Complete the information below and email your response to [email protected], or fax to 086 724 2764.
Completed information will be kept strictly confidential and used for fall armyworm reporting purposes only.
Date:
Name:
Contact nr:
E-mail:
Farm name:
Province:
Municipal district:
Municipality:
Number of ha:
Commodity affected:
Identity confirmed in Laboratory (YES/NO):
Chemicals used:
GPS Coordinates:
Longitude | Latitude:
Download Fall Armyworm update and detection report