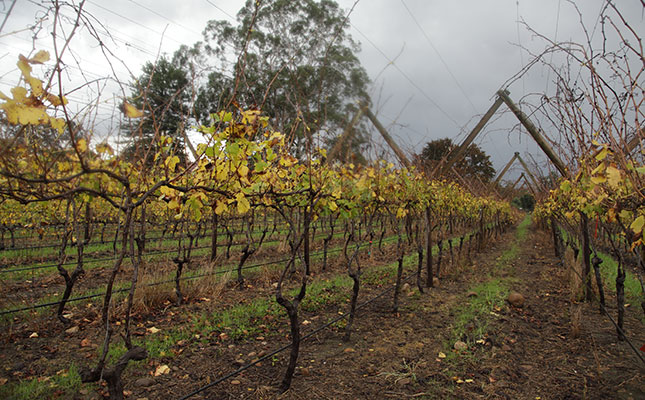 The 2022 wine grape harvest is expected to amount 1,42 million tons, which is 80 000t above the industry's five-year average of 1,34 million tons, and 2,2% smaller than the 2020 harvest, which came in at 1,45 million tons. This is according to the first crop estimate.
Conrad Schutte, manager of Vinpro's team of viticulturists, which issue the crop estimates with the industry body South African Wine Industry information & Systems (SAWIS), said  producers, generally, experienced an excellent winter, due to sufficient cold, as reflected by regular snowfall on mountain peaks, along with consistent rain, which supplemented soil water levels and contributed to a substantial rise in Western Cape dam levels.
"The collective dam level was at 81% by mid-September, just before the start of the 2022 growing season," he says.
The mostly cool spring and wet soil conditions led to bud break occurring seven to 14 days later than usual, but buddings were consistently good and even, except in the Orange River region. Warmer weather in November accelerated the growth and most vineyards were able to catch up during flowering, which occurred roughly five days later than normal.
Earlier cultivars flowered well, but certain late cultivars like Cabernet Sauvignon flowered during cool, wet and windy conditions, which might affect berry set negatively.
Schutte expected product to decline 10% in the Orange River region because of vineyards being uprooted and below average bunch numbers caused by uneven bud break, and 5% in the Olifants River region, because of farmers switching to crops with a higher income potential, such as table grapes and dried grapes.
In the Robertson Valley, production was expected to be 4,7% smaller than last year, because of lower bunch numbers caused by climatic conditions and vineyards being uprooted; and 4% down in the Breedekloof region.
Production in the Swartland and Paarl regions seemed to be the same as last year, while favourable climatic conditions were expected to result in production increasing by 8% in the Klein Karoo, 14% in Stellenbosch, and 17% in the Cape South Coast. Schutte said that farmers had to watch out for fungal diseases especially in the Cape South Coast region.
While it was still early in the season, Sterik de Wet, CEO of Ashton Cellars, said the Robertson Valley was looking forward to a good harvest in terms of quality and yields thanks to favourable climatic conditions.
"The harvest is expected to be slightly lower than the 2021 harvest, but still better than our five-year average."
Market prospects were also looking good, especially for Sauvignon Blanc and Chardonnay, though not as well for Colombar.
"Prices for Colombar are likely to remain sticky for the next year," De Wet said.
De Wet added that exports to Africa had been growing and the organisation of Wine and Vine expected unfavourable climatic conditions, particularly in the EU, to result in a 13% decline in EU production and a 4% decline in international production, which was likely to support prices and create new marketing opportunities for South African wine in the coming season.
De Wet identified the possibility of future liquor trade restrictions to manage the COVID-19 outbreak as the biggest threat hanging over farmers' heads at the moment. "Trade restrictions have been financially disastrous. We simply cannot afford another one."