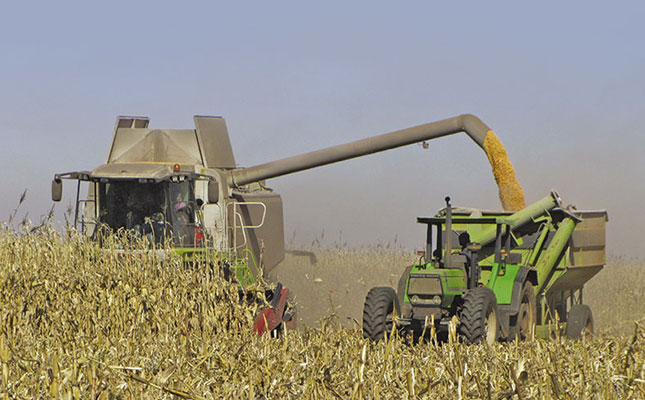 The SA Agricultural Machinery Association (SAAMA) added that for the year-to-date, the 58 combine harvesters sold in 2017 were also 11,5% up on the 52 units sold for the corresponding period last year.
SAAMA reported that the 515 tractors sold nationwide in March 2017 were 18,7% more than the 434 units sold y/y.
However, the 1 668 tractors sold for the year thus far were 4,4% less than the 1 745 units sold for the corresponding period in 2016.
"The better sales [last] month are a reflection of the current good summer crop prospects. With the maize crop now forecasted at 14,3 million tons, this crop is likely to be the biggest since 1981," said SAAMA's chairperson, Lucas Groenewald.
He explained that although SA's summer grains prices were presently depressed due to the expected large harvest, farmers had been able to purchase favourably-priced agricultural machinery in March as a result of the strengthened rand.
Wandile Sihlobo, head of Economic and Agribusiness Intelligence at Agbiz, said that SA's combine harvester sales had been on an upward trend since the start of 2017, with March's sales the highest.
"The overall summer crop production [for the 2016/17 season] is estimated at 16,7 million tons, which is a 78% annual increase. The most notable increases are in maize and soya beans. Soya beans are set to be the biggest on record, estimated at 1,2 million tons," Sihlobo said.
He added that the 18,7% increase in national tractor sales between March 2016 and March 2017 indicated that farmers were preparing to plant their winter crops over the next few weeks.
Groenewald said that it was likely that the short-term prospects for SA's agricultural machinery sales would remain positive.
However, this could be undermined later this year due to the recent weakening of the rand, which would lead to escalating machinery prices.
Sihlobo echoed Groenewald's sentiments, adding that escalating farm debt could also reduce some SA farmers' ability to further invest in new agricultural machinery.
"In 2015, the total real farm debt [in SA] was at R142 billion, which is a record level in a database starting from 1980," he said.
SAAMA said that it expected total tractor sales for the 2017 calendar year to be at least as good as the 5 855 units sold in­­ 2016.