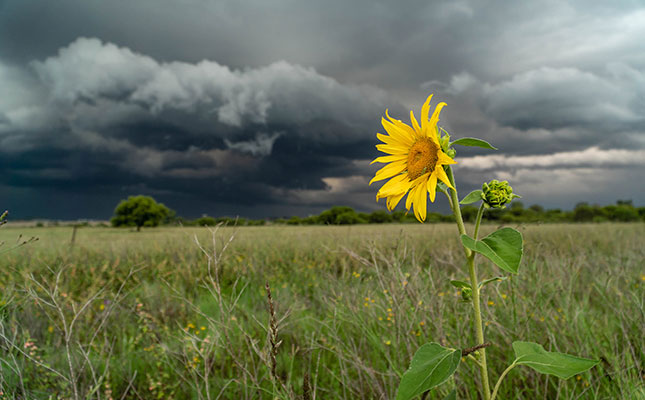 Above average rainfall across parts of South Africa's summer rainfall region has resulted in some farmers having to delay planting of crops such as maize, soya bean and sunflower. The wet conditions have also increased the risk of outbreaks of animal diseases, such as Rift Valley fever (RVF), according to various experts in the industry.
While rain was always better than drought, said Deon Bergh, representative for Grain SA in North West, agricultural input costs had skyrocketed over the past year, making farmers' room for error very small.
On top of double-digit increases is prices for fertiliser, pesticides, labour and electricity, farmers were now forced to apply agrochemicals with the use of more expensive technologies, such as aerial crop sprayers.
"Besides the fact that this is an added cost, farmers still need to make payments, with interest, on the machinery that they would've used for planting and spraying," Bergh added.
Sakkie van Zyl, a farmer in Makwassie in North West, said the region's soils remained soaked in rain water. "There are areas between Makwassie and Wesselsbron that cannot be reached due to water," he added.
However, the overall picture was more positive than negative, Van Zyl said.
"Currently, the biggest concern on our farm is that we won't be able to plant [early] enough."
Dries Kirsten, a farmer between Bothaville and Wesselsbron in the Free State, said they while farmers in the region had finished planting, lands were now drenched in water and they could not get machinery onto the lands to perform any follow-up spraying.
Meanwhile, livestock farmers were concerned that the wet conditions could lead to RVF outbreaks. This was because RVF was transmitted by mosquitoes, whose populations increased after heavy rain.
Dr Claudine Cordel, research director at ExecuVet, said that current conditions were similar to the ones that led to the 2010/11 outbreak of RVF. "When you look at the land surface temperature, the vegetation index and the rainfall patterns, it's very similar to the situation when we last saw a RVF outbreak in the country."
She added that current indications were that the country's peak rainfall in the summer rainfall region would likely be in January. "If this happens, the chances for an outbreak of RVF will increase even further."
Cordel said that farmers needed to vaccinate their animals against RVF, if they had not already done so, as a matter of urgency.