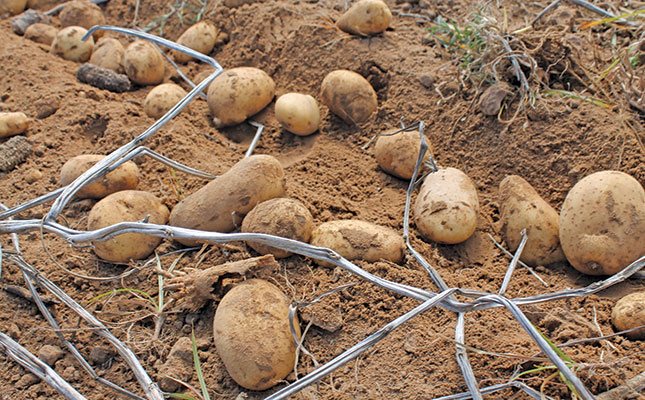 This was according to this morning's Agbiz Market Viewpoint on Agri Commodities, which says the price closed at R31,58 per 10kg-bag on Tuesday.
The market was seemingly reacting to a sharp decline in deliveries on the first day of trading for the week, with stocks down 32% for a closing total of 749 597 bags on Monday.
Deliveries increased 16% on Tuesday, with stock levels closing at 871 861 bags.
Potatoes SA CEO Andre Jooste meanwhile said potato prices came under pressure last week as stock levels moved above one-million bags.
Most of the supply is currently coming from the eastern Free State, where dryland producers began harvesting the crop at the start of the year.
The 31 May stats show that eastern Free State producers are currently enjoying a 38% market share, followed by Western Free State with 28%, the North West with 7% and Limpopo with 5%, said Jooste.
The remaining 22% is spread among SA's other potato-producing regions.
Jooste said the industry has returned to much more normal production conditions following the tumultuous supply and demand scenarios seen in 2015 and 2016.
According to Potatoes SA, about 4 million more bags more were sold during the first four months of 2017 compared to the same period in 2016, and 2 million more than in the same period in 2015.