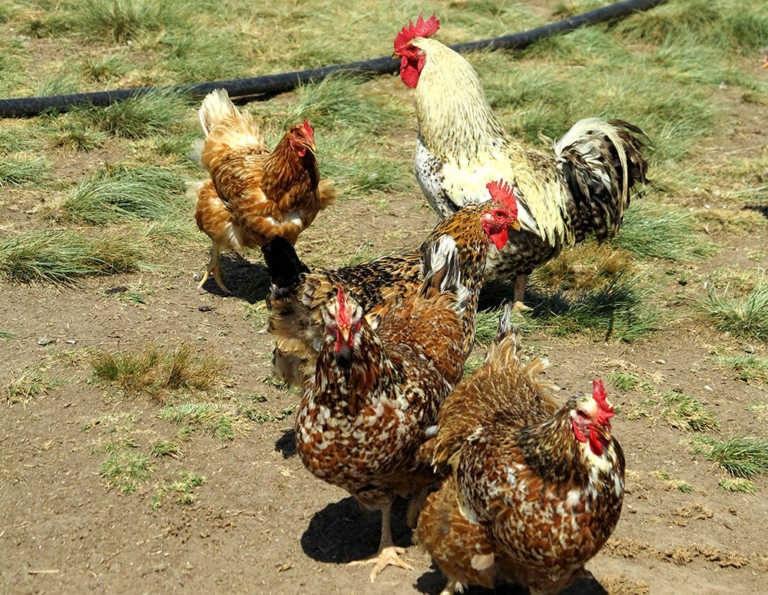 Six years ago, Lindy Gordon-Brown was newly divorced with no income. She found herself in a position where she had to make a living off of her 11ha farm.
"I'm an animal lover and had farmed chickens before, so I thought chicken farming would be a quick way to make cash," she recalls.
READ The many rewards of game farming in the Karoo
Lindy studied natural chicken farming methods taught by Herman Beck-Chenoweth, who is renowned for his free-range chicken farming practices, as well as learning from the Mormons.
"I wanted to learn to farm the natural way and to give the chickens as happy a life as possible," says Lindy, now fondly nicknamed The Fowl Woman. "We use small, compact houses for small groups of chickens, which all venture out every day. Chickens don't like to be in large groups."
Lindy purchased her first 100 chickens in 2010, and her partner, Nebojsa Filip, designed and built the unique chicken houses.
"They're our own design. They're tunnel-shaped and have sleds underneath so we can pull them around with a tractor. All the side flaps open for ventilation, which we can also regulate."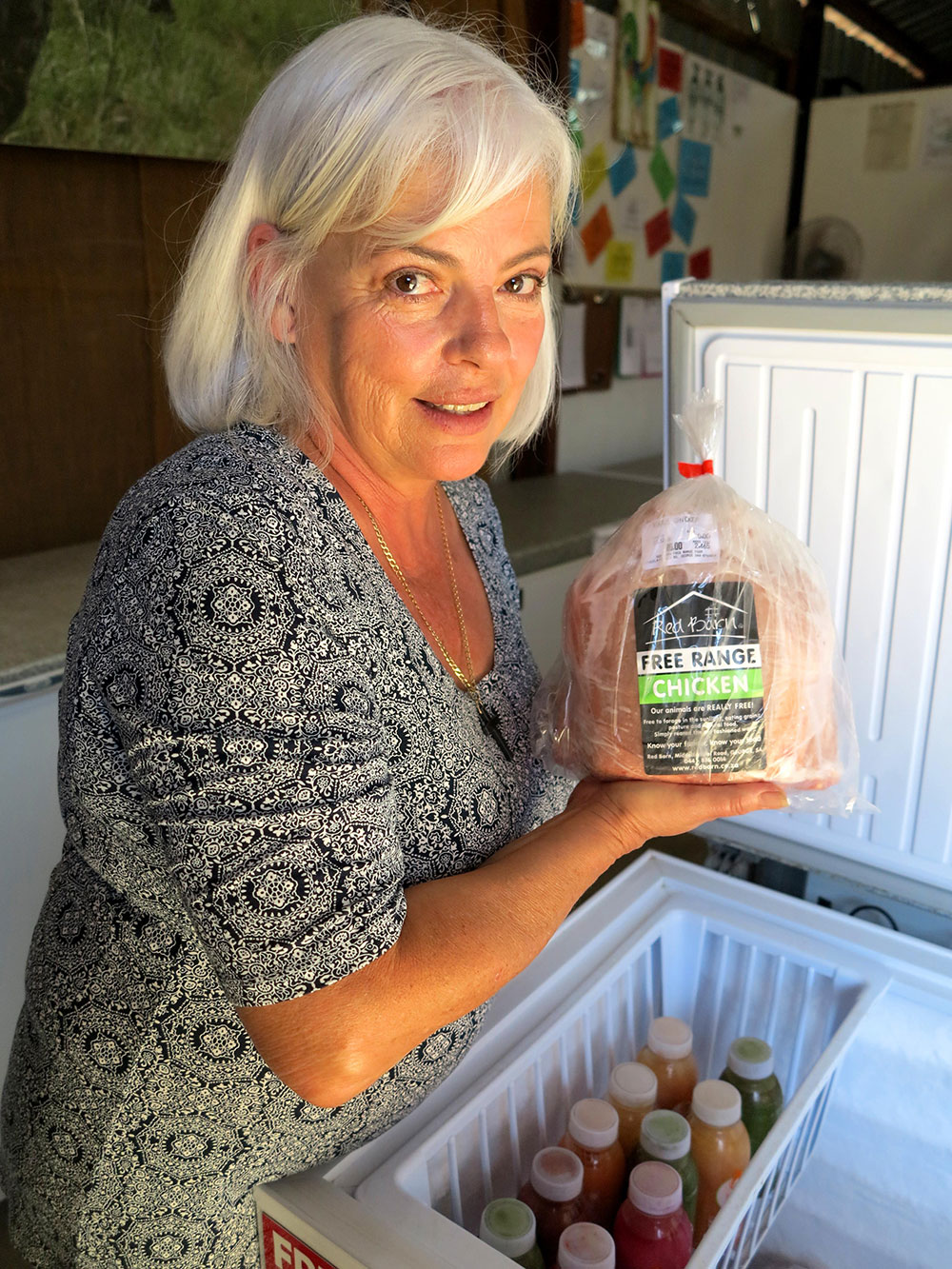 When it's hot, the chicken house roofs are wetted to cool them down, and water pipes run along the ground so that the chickens can splash and cool off.
She explains that in huge chicken houses, which are invariably long, narrow buildings, the chickens in the middle of the building seldom or never go out.
"The doors are usually opened at either end but the chickens in the middle never push past the rest to get outside, yet this is considered 'free range'."
Production & products
"We mainly use Ross chickens or Arbour Acres chickens for meat. They are ready to harvest at six weeks but we usually leave them to grow to eight weeks. Broiler chickens are quite fussy, so they eat the Epol Starter Ration, the Grower Ration and the Finisher Ration, and then finish off with mealies. We use the Epol Free Range ration, which is readily available."
Red Barn harvests about 600 chickens a week and makes 50 to 60 products in-house. The trick, says Lindy, is to add value to a whole chicken, by portioning it and making special products such as sausages, schnitzels and marinated packs. Red Barn uses chicken fat to produce schmaltz, chicken bones for stock, and offal, which is made into pet food.
"We keep adding to our product line. Filip, who is Serbian, has introduced a new Serbian chicken sausage with smoked paprika, which is very popular," says Lindy.
They sell direct to the public, which is a key factor in making her operation profitable and sustainable.
Egg production
All Red Barn eggs are fertilised, and the farm has 2 500 laying hens, which collectively
produce 150 to 200 dozen eggs a day. Lindy also buys in new laying hens every three or four months.
"We use Mike Bosch's Boschveld laying hens, as they are a hardy breed and indigenous to South Africa. He exports free-range eggs and chickens from Bela-Bela. The Boschveld hens handle heat and cold well and are very suitable for free range. They eat a balanced ration, green lucerne and grass."
Boschveld hens start laying at 21 weeks.
"We don't use lighting to encourage laying. When the chickens lay, we are happy, and when they moult, we simply send out a newsletter to inform customers that egg production is down. Our laying hens stay with us for about four years and then are used mainly for pet food, although some customers request these dark flesh chickens too."
Numerous restaurants along the Garden Route use Red Barn free-range eggs and Lindy says she is always slightly short on eggs.
Disease control
Broiler chickens are susceptible to lung diseases and bronchial infections. "Many chicken farmers say it's impossible to avoid using antibiotics in broilers, but I know it's possible."
Although her chickens have strong immune systems to start with, if a problem arises she uses oregano herb oil in concentrated medicinal doses.
She also gives them a natural herbal liver support, as well as fresh aloe, which is cleansing, and garlic for its natural antibiotic properties. However, if there is a serious illness, she and her team will give the chickens antibiotics for humane reasons. These chickens will go to a different market.
READ Diseases in the fish farming sector
According to Lindy, when chickens are kept in large houses, those in the middle become too hot and easily get infections.
These spread, which is why antibiotic treatment becomes necessary. Her chickens, however, are completely free to walk around wherever they wish.
"For half the day, the sun shines on half of each chicken house, and for the other half of the day on the other half, which helps with germ control. Our chickens really don't get sick, but just as insurance, we also have a chicken grower who raises chickens according to our specs, and twice a week he brings in fresh chickens to us. It's a way of spreading risk should anything happen to our chickens," she explains.
Meeting market demands
Red Barn delivers directly to its customers by courier from Port Elizabeth to Cape Town, and all along the Garden Route.
"We do charge a courier fee, but people in various centres get together to form 'chicken clubs' where they place a bigger order and then share the courier fee," says Lindy.
Red Barn does do online marketing, but also relies on word of mouth. According to Lindy, her customers are people who really care where their food comes from, and how the animals were treated.
"I've seen that farming ethically attracts the right people to the right market."
According to her, Red Barn is meeting demand because it grows according to customer demand; the market dictates when growth is necessary.
"I think people are becoming more and more aware of what they eat, where it comes from and how animals are treated."
More and more South Africans are buying local, and enjoy coming to the farm.
"And the chicken they buy is not going to shrink when cooked because it has not been injected with brine."
She adds that her customers enjoy coming to the farm because they are made to feel special and staff know them by name.
Red Barn's business model is built around the humane treatment of animals, and Lindy and her team have thoroughly researched how to harvest chickens ethically.
"The biggest thing is how the chickens are collected," she stresses.
Much of commercial chickens' suffering arises from travelling long distances, waiting in the sun at the abattoir and mishandling by people who don't care about their welfare, she says.
At Red Barn, the chickens to be slaughtered are individually and gently picked up and placed in a crate, and there is minimal travel involved.
"Every one of our chickens is handled by our staff under my very watchful eye. How the chickens are slaughtered is very important to us. They are shocked so that they don't feel any pain."
Challenges & successes
"Getting electricity and water to the chicken houses is a challenge, so we have moveable cables on the ground as the chicken houses are moved regularly," Lindy explains.
Red Barn has converted one barn and its shop to solar power, and there are plans to continue converting more structures.
"It has been our biggest expense, but I believe it will pay off in the long run. We don't have municipal water, so rely on rain water. There's a borehole but the water is brackish and we need to purify it for use, so water is the bigger of the two problems."
Lindy says she never realised just how far she could take her farming business. "It was just going to be a sideline for cash, but it has become all-consuming and a great business we can live off."
Although it is not an easy job, Lindy says she is amazed that she and her team can farm and sustain a living on such a small piece of land.
"I had no idea it could be such a beautiful little business."
Contact Lindy Gordon-Brown on 044 876 0014 or [email protected]. Visit redbarn.co.za or follow Red Barn Facebook Page
Please note that Red Barn does not sell live chickens, day-old chickens or laying hens.