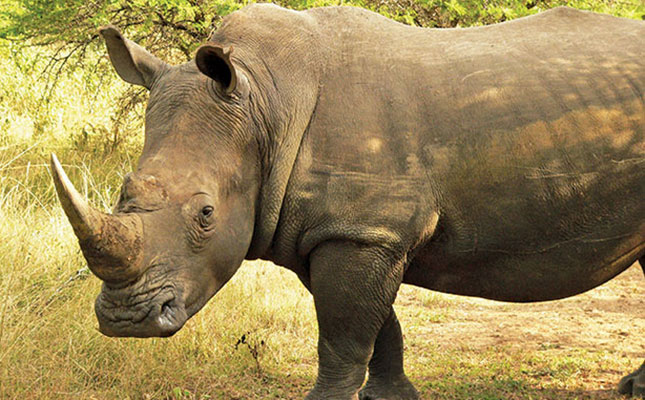 Statistics released by the Department of Environmental affairs (DEA) covering the period January 2016 to December 2016, showed a decline in the number of rhinos poached, both in the country as a whole and in the Kruger National Park (KNP).
A total of 1 054 rhino were poached in 2016, compared to 1 175 in the same period in 2015, representing a decline of 10.3%, according to the release.
"In the Kruger National Park, a total of 662 rhino carcasses were found in 2016, compared to 826 in 2015. This represents a reduction of 19.85% in 2016. This is despite a continued increase in the number of illegal incursions into  KNP," the release said.
The DEA release also showed an increase in the number of arrests for poaching-related offences inside the KNP, the area hardest hit by poaching.
"During 2016, the SAPS reported that a total of 680 poachers and traffickers were arrested for rhino-related poaching offences nationally. This is a marked increase in arrests of 317 in 2015. Of this number, 417 were arrested both within and outside KNP. A total of 148 firearms were seized inside the park in 2016, and six just outside the park."
The DEA announced that the Department of Justice and Constitutional Development had decided to open a Regional Court in Skukuza, active from 7 March 2017.
"High-profile [poaching] cases will be transferred to the Skukuza Regional Court. The decision to open this as a Regional Court will ensure that case turnaround times are expedited," the release said.
Andrea Weiss, media manager for WWF SA, said in a press release that they noted that criminal syndicates had shifted their focus in response to these law enforcement actions, focusing elsewhere in South Africa.
"Key populations in KwaZulu-Natal in particular faced this impact in 2016, with 161 rhinos killed in that province, an increase of 38% from the previous year," Weiss said.
Dr Peter Oberem, private rhino owner and deputy president of Wildlife Ranching South Africa, told Farmer's Weekly that, based on reports he receives on a daily basis from various security associations, there may be a decline in poaching in national parks, but an increase on privately owned land.