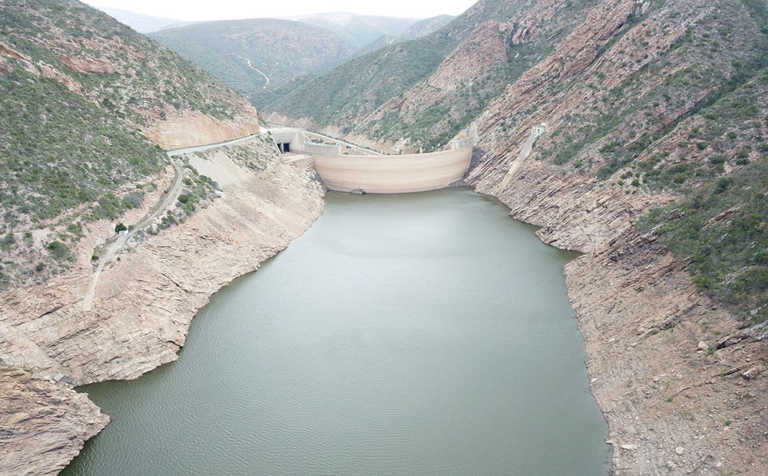 "While the rain was welcome, the Kouga Dam's water level is still critically low [but as a result of] the rain, we were able to postpone our Day Zero from the beginning of March to the end of April," CEO of the Gamtoos Irrigation Board (GIB), Pierre Joubert said.
The Kouga Dam, currently stood at 10,2% of capacity after it reached an all-time low of 7,1% prior to the rain, he said. "The dam's level would have dropped to 5%, had it not been for the rain."
The rain also brought some relief for many farmers in the Gamtoos Valley. According to Joubert, 200 citrus, vegetable, and dairy farmers in the valley were dependent on water from the Kouga Dam to irrigate their crops.
"The valley received an average precipitation of between 20mm and 50mm that increased soil moisture, which is especially helpful, as two of the farmers have already exhausted their water quotas for the year," he explained
However, the drought had already taken its toll. According to Joubert, fewer vegetables had been planted this season, while this season's citrus harvest was also expected to be much smaller, as farmers had to reduce irrigation levels to orchards.
He told Farmer's Weekly that despite these adverse conditions, farmers tried to remain positive as good rainfall was usually received during March.
The drought was, however, not only affecting farmers: "The whole community is affected by the current drought. There is no [economic activity] other than agriculture here."
Joubert added that about 10 000 permanent farmworkers were employed in the Gamtoos Valley, and farmers would try to keep them employed for as long as possible.
However, seasonal workers would feel the impact of the drought as a result of a significantly smaller citrus harvest this year.