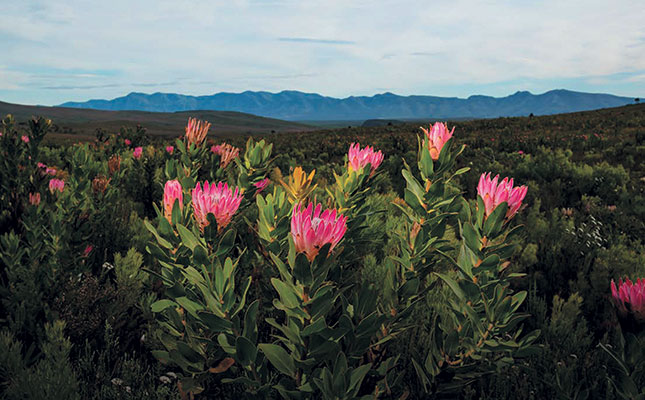 These findings were reported in a University of Cape Town study recently published in the Proceedings of the National Academy of Sciences.
The South African Environmental Observation Network (SAEON), collaborating with South African and US institutions, conducted the 44-year-long project in the Cape of Good Hope section of Table Mountain National Park.
According to the study: "The species unique to each survey have shown a 0,5°C increase in maximum temperature tolerance; species that have low tolerance of high maximum temperatures have been disappearing, while those that have been colonising plots have a higher maximum temperature tolerance, suggesting that species are tracking shifting climate."
It also reported that "periods of extreme hot and dry weather have become worse over the 50-year weather record, suggesting directional climate change".
Jasper Slingsby, biodiversity scientist at SAEON and project leader, told Farmer's Weekly: "The 'Cape reeds' (Restionaceae) and sedges (Cyperaceae), and herbaceous species like Lobelias and Gerberas were worst affected," but had good news for protea growers as the study had found no evidence of a climate impact on Protea species yet, "probably because they grow deep roots very quickly".
Slingsby said fynbos growers would need to take greater care to maintain cooler and/or wetter conditions during propagation by watering and using shade cloth, but that most farmers likely do this already.
He explained that if these proved ineffective as the climate deteriorated, farmers would probably need to grow "species, genotypes or cultivars that are better adapted to hot, dry conditions, but this would come at a cost of slower growth rates".
He added that maintaining or restoring natural veld for conservation or wild harvesting may become increasingly difficult.
It would incur expenses typical of an active farm, requiring propagating sensitive species and planting them out once they were large enough to handle the conditions, or possibly even watering patches of veld.
"Fortunately, this shouldn't be needed yet, but may become more important over the next few decades," he said.
Diversity decline is a concern in dry-summer, fire-prone ecosystems, including much of the Mediterranean Basin, Australia's south west, California, and the western United States.