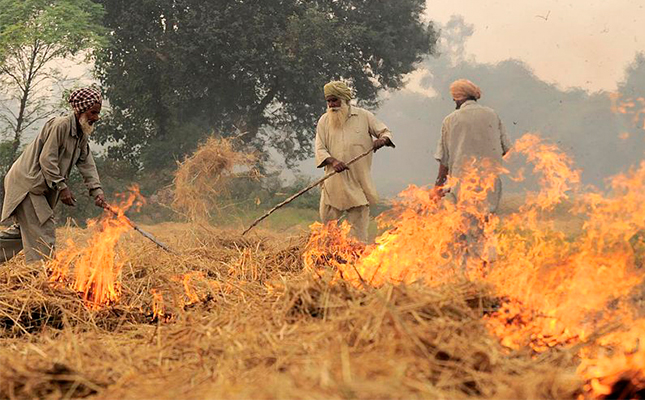 In a bid to prevent the severe pollution resulting from farmers burning crop residues every winter, authorities in India have announced plans to establish more than 100 biogas plants in the north of the country.
In addition, thousands of farmers would be provided with equipment to dispose of crop stubble, the Reuters news agency reported.
The toxic pollution that engulfed large areas of northern India every year, including the capital New Delhi, has been attributed to the burning of the straw and stubble from the previous season's rice crop to prepare for new plantings in October and November every year.
This had resulted in New Delhi being regarded as one of the world's most polluted major cities.
A total of 140 biogas plants that will use rice stubble as feed stock, will be set up by the Indian Oil Corp Ltd with the backing of the Indian government, at a cost of about 35 billion rupees (about R7 billion).
Each of these plants would need approximately 2t of crop residue every hour for at least 300 days a year to produce "an optimum amount" of compressed natural gas (CNG), a source who spoke to Reuters on conditions of anonymity said.
According to Indian government officials, pollution had been exacerbated in recent years as more mechanised harvesters were being used, which generated more residue than crops harvested by hand.
Government would also provide farmers with
100 000 new machines every year to dispose of the crop residues in their fields.
"We'll give farmers the choice to either get rid of crop residue or sell it to the biogas plants," the source said.
However, environmental experts expressed scepticism about the plans.
"Given the amount of resources that the government has, what will decide the efficacy of this plan is consistent engagement with farmers," said Nandikesh Sivalingam, a programme manager at Greenpeace.
"But if you expect results next winter, it can't happen."
Farmer's Weekly previously reported that despite the burning of crop residues now being deemed illegal, agricultural stakeholders said it was expected to continue as impoverished farmers could not afford farming machinery.
"Farmers are under attack from all fronts; even the supreme court is castigating farmers for the issue. The court has not considered the fact that almost 90% of the farmers have land holdings below two acres [0,8ha], and little purchasing power to buy costly machines," said Balbir Singh Rajewal, president of Bharatiya Kisan Union.