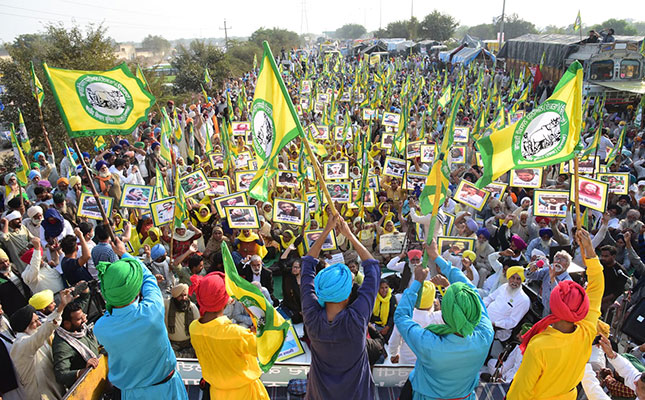 The tens of thousands of farmers in India who have been protesting against new agricultural laws are seemingly undeterred by the second, more devastating wave of the COVID-19 pandemic in that country.
The protest, now in its sixth month, is continuing on the outskirts of the country's capital, New Delhi, with farmers demanding the repeal of three new laws passed by the government last year.
They say it will destroy their livelihoods by giving private corporations more control over the sector.
Multiple rounds of discussions between farmers' unions across the country and the government failed to break the deadlock, despite Prime Minister Narendra Modi's claims that the new laws would modernise India's agriculture sector.
Al Jazeera reported that the escalating COVID-19 crisis in India, which has seen record-breaking numbers of daily infections and deaths for a number of weeks, had failed to deter the protesting farmers, mainly from the states of Punjab, Haryana and Uttar Pradesh.
Farmers could be seen flouting COVID-19 guidelines by not following social distancing rules or wearing face masks.
"We don't fear COVID-19 because we have bigger things to worry about," said Kittu Maan Singh, a protester at Delhi's Tikri border with the neighbouring Haryana state.
"If the government is so much concerned about the pandemic, why did it bring the farm laws in the middle of a pandemic without asking whether or not we want those reforms?" he told Al Jazeera.
The farmers were vowing not to leave the sites unless the government agreed to completely reverse the farm laws and guaranteed the continuation of the minimum support price (MSP) system, which set a minimum sale price for farmers' produce.
Some farmers had reportedly even constructed brick houses along the highways, anticipating a long protest against the government.
"It's worrisome, because right now we know that any large social gathering is a cause for concern, be it a political rally, a religious gathering or a protest venue," public health expert Anant Bhan told Al Jazeera.
"Having such a large number of people could be challenging, mostly because the health system around New Delhi is now collapsing. There is an acute shortage of oxygen and beds."