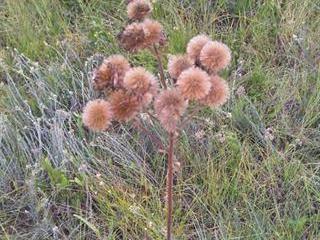 The pom pom weed (Campuloclinium macrocephalum) was introduced into SA from Brazil as an 'ornamental flower', but spread into the wild in the early 1970s. It has since established itself rapidly in KZN, Free State, Gauteng and Limpopo. The plant, which grows 1,5m high, spreads easily by seed, but can also regenerate from rhizomes. Once established, it causes serious degradation of the veld, as its roots produce enzymes which prevent natural grazing grasses from growing properly.
No herbicides are registered for this weed, and destroying the above-ground parts of the plant with chemicals or fire makes the problem worse because this stimulates the rhizomes to produce more flowers. It's possible to dig up each plant, of course, but this is a monumental task.
At Nyoka Wildlife Conservation, near Skeerpoort in Gauteng, volunteers tried the following herbicide eradication method – and the results, although not scientifically conclusive, have proved highly effective. The herbicide mixture used was 5% Glyphogan 360 SL herbicide liquid with 1,5% Power Up adjuvant ammonium sulphate liquid (1l of Glyphogan and 300ml of Power Up) mixed into 20l of water.
Firstly, ensure that the flowerheads are intact so the plant will absorb the herbicide into the roots. Next, spray the flowerheads, stems and leaves using an ordinary pump-action sprayer. A week later, cut off the flowerheads, which will be brown and sagging, and place them into plastic bags for later burning. At this stage, the poison has been absorbed by the rhizome, and the plant will die.
Contact Dave Vanderspuy at [email protected]
The products mentioned are available from Shiman (Pty) Ltd in Olifantsfontein. Contact 011 635 3000.