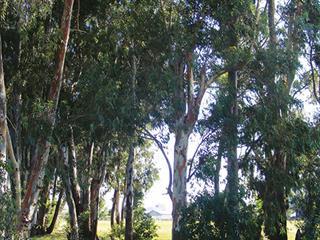 A global project to unravel the genetic blueprint of Eucalyptus grandis, a species from a genus of fast-growing trees commonly known as 'gum trees', was recently completed. "Now that we understand which genes determine specific characteristics in these trees, we can breed trees that grow faster, have higher quality wood, use water more efficiently, and will cope better with climate change," says Prof Zander Myburg, director of the Forest Molecular Genetics Programme at the University of Pretoria's department of genetics, and the project's lead investigator.
READ MORE: Forest scientists seek help with new Eucalyptus pest
The findings of the project were laid out in a joint media release from the Department of Science and Technology (DST) and UP. "We can turn well-managed Eucalyptus plantations into bio-factories to produce sought-after materials and chemicals," Myburg says. "And with this new knowledge about the molecular basis for superior growth and specific adaptations in plants, we can apply the same techniques to other woody plants that can be used as feedstock in the bio-economy of the future."
International five-year project
Native to Australia, gum trees are planted worldwide, mainly for timber, pulp and paper production, but increasingly also for 'chemical cellulose', a form of pure cellulose used in a wide variety of industrial products. The five-year project to sequence the Eucalyptus grandis genome involved 80 researchers from 30 institutions across 18 countries. Combing through the more than 36 000 genes found in Eucalyptus, the researchers honed in on those that might be able to boost the economic value of the trees by influencing the production of cellulosic raw material that can be processed for pulp, paper, biomaterials and bioenergy applications.
READ MORE: SA home to three of the world's tallest planted trees
"UP is delighted with the positive outcome of the project and the exciting new opportunities for our genomic research programmes," says Prof Anton Ströh, dean of the faculty of natural and agricultural sciences at UP. The DST, together with forestry companies Sappi and Mondi, supported Myburg and his team by funding the construction of the genome map used as a scaffold for genome assembly, as well as the sequencing of expressed genes used for annotation of the genome.
"The development of new knowledge and skills in tree genomics, and the application of that knowledge to enhance industry competitiveness, is directly aligned with the DST's vision of a bio-economy," says DST director-general Dr Phil Mjwara. "This is a superb example of full value-chain thinking, and thus an important investment for the department."
An account of the successful sequencing of the genome was published in the scientific journal Nature on 19 June.
Phone Prof Zander Myburg at 083 389 0325, or email [email protected].